Law
Read the Law, Judge. Pot Is a Sacrament.
A U.S. appeals court rules against cannabis use by an alternative church. Its logic is warped.
by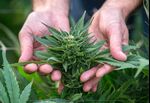 A U.S. appeals court says that the federal law protecting religious liberty doesn't shield a Hawaiian church that uses cannabis in its rituals. That's pretty outrageous.