2016 Elections
Overheard in the Line for Long Island's Trump Rally
Tough talk, cuss talk, sweet talk -- and a fight over buttons.
by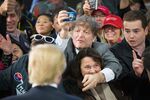 The Long Island Rail Road express to Hicksville on Wednesday was supposed to be met by shuttle buses, chartered by Donald Trump's campaign, to ferry supporters (or simply the curious) to Grumman Studios, where they would experience his first big rally on home turf. But the line at the station stretched down the block and around the corner, with no buses in sight.
The people waiting appeared diverse in every way except color. "I've been saying for years that we need a New York capitalist who knows how to do economics," said a 20-something in camouflage pants and "Make America Great Again" emblazoned on his knit hat. "No one knows how to do economics. Trump knows how to do economics." 
A plane flew overhead. Someone yelled: "That must be Trump!" A mustachioed older man with a big board of Trump buttons sauntered by: "Five dollars each."
"Two for six dollars," said another 20-something man. The peddler wasn't budging. "You're going to go home with a lot of buttons tonight. Come back when you want to talk."
Eventually, he came back, but only because the line hadn't moved. The prospective buyer -- let's call him Buttons -- raised his offer: "Two for seven dollars." The peddler kept walking.
"This guy," said Buttons. "You believe him?" (Two expletives deleted.)
A middle-aged woman scanned the line and said to a middle-aged couple: "This is a very peaceful crowd." The couple responded, almost in unison, "So far!"
Eventually a bus came; Buttons and his friend moved about halfway up the line. It was almost six o'clock, and the rally was scheduled to start at seven. The pin peddler began offering three for $10. But he still wouldn't take $7 for two.
Buttons couldn't believe it. "He doesn't even know!  He'd make out better. He has no clue!" (Three expletives deleted.)
Another bus pulled up. Buttons left and came back with the goods. "You get two for seven dollars?" asked his friend. "No," said Buttons. "Two for eight. Gotta say, smart businessman." (One expletive deleted.)
The man in the knit cap hat turned around: "The art of the deal."
The pair finally got to the front of the line, but the bus was full. The young woman in charge said it would be the last one. Buttons, after trying sweet talk ("You're really pretty!"), decided that he and his friend would hail an Uber.
The driver was a fellow named Khan, and Buttons told him they were going to Grumman Studios. "What is going on there, a sporting event?" Khan asked in heavily accented English.
"We're going to a Trump rally," said Buttons.
Khan, after a pause: "So you are Trump supporters?"
Buttons said yes. Another pause. What did Khan think of Trump?
"I hate him," Khan said without hesitation. Everyone laughed, grateful the tension had been broken.
Buttons: "Why?"
Khan: "He will ruin relations with the rest of the world!"
Buttons: "Maybe."
Khan: "If Saudi Arabia won't deal with us, gas will be $5 a gallon!"
Buttons: "Trump will never let that happen!"
Khan: "I won't be able to drive this cab!"
Then: "Also, I am Muslim, and he wants to throw us out of the country!"
Buttons explained that Trump only wanted to keep out foreign Muslims, and also illegal immigrants. Buttons said he respected Latinos, worked with Latinos, but there are too many Latinos here illegally. "I gotta tell ya, I love the wall. I love it!"
He further explained his position on illegal immigrants, and why a wall was important. Khan seemed to agree. "That makes sense. A wall makes sense."
Khan got as close as he could to the venue; his passengers exited, wishing him the best. With time running short until the doors closed, Buttons and his friend decided to make a run for it. One of their buttons came loose and fell to the street.
I picked it up, thinking I might see them inside. But I never made it into the rally; the crowd was too big, and about 100 of us were turned away at the door. At least I got a good -- expletive deleted -- souvenir.
To contact the author of this story:
Francis Barry at fbarry5@bloomberg.net
To contact the editor responsible for this story:
Christopher Flavelle at cflavelle@bloomberg.net
Before it's here, it's on the Bloomberg Terminal.
LEARN MORE