NATO Isn't Obsolete. But It Could Be More Vital.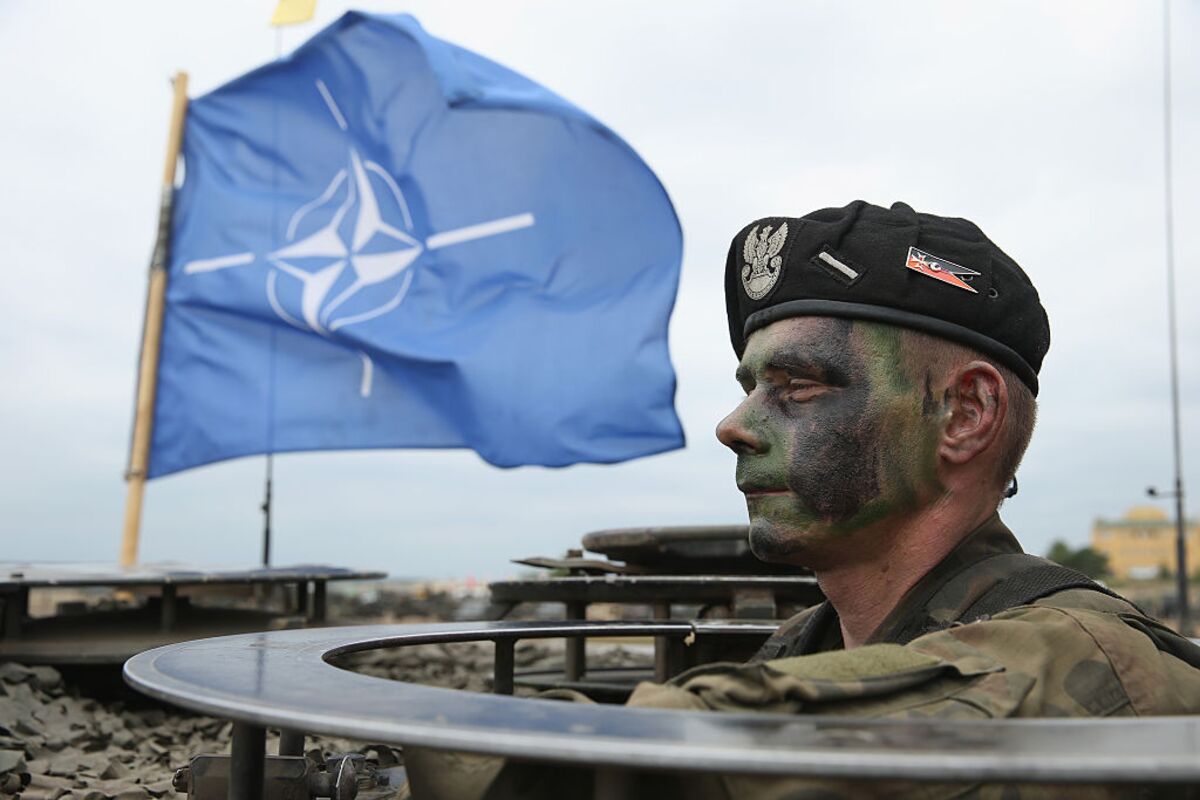 Photographer: Sean Gallup
Neither U.S. President Barack Obama nor NATO Secretary General Jens Stoltenberg mentioned Donald Trump after their impromptu meeting on Monday, but the Republican front-runner's claim that the alliance is "obsolete" hung heavily in the atmosphere. So, too, did Obama's own recent comments that many allies are "free riders" taking advantage of U.S. military prowess.
NATO remains vital to European and global security, as Obama and Stoltenberg noted -- particularly given Russian aggression in Ukraine; Europe's refugee crisis; the persistent threat from Islamic State; and recent terror attacks in Ankara, Brussels and Paris. But the alliance is insufficiently prepared to meet the threats to Europe that can be expected in coming years.
One symptom of this weakness is the failure of 23 of NATO's 28 member countries to fulfill their pledge to spend at least 2 percent of gross domestic product on their militaries.
Another is their lopsided defense budgets, which spend more than is needed on personnel and too little on drones, warships, anti-missile defenses and other warfighting hardware. Groups of countries should be encouraged to pool funds for major acquisitions, as 10 of the 28 members did to purchase the three C-17 transport planes now based in Hungary. This model could be used to replace the alliance's aging fleet of AWACS early warning planes. 
Organizational changes could also improve efficiency. NATO's website lists nearly 50 separate civilian agencies and offices; consolidate both the military and non-military staffs, and the number of personnel could be trimmed by at least 20 percent, according to retired U.S. Admiral James Stavridis, a former NATO supreme allied commander.  
Bureaucracy also hampers readiness. Last summer, the supreme allied commander, U.S. General Philip Breedlove, was given greater authority to mobilize troops without engaging in a cumbersome approval process. But he still lacks some of the powers his Cold-War predecessors had. Most immediately, he needs the authority to unilaterally deploy the alliance's new rapid-reaction Spearhead Force.
NATO could also stand to improve its ability to counter "hybrid" warfare, such as Russia has practiced in Ukraine, combining military aggression with political destabilization, cyber-attacks and propaganda. At the least, this calls for integrating mock cyber-operations into major training exercises, taking advantage of the new NATO Cooperative Cyber Defense Centre of Excellence in Talinn, Estonia.  
To address the Russian threat directly, NATO should consider making permanent the additional armored brigade that the U.S. plans to rotate through Poland and the Baltic states. A new airbase in Eastern Europe may also be needed, as well as a facility in the region from which to operate NATO's fleet of Global Hawk drones.
The U.S. needs renewed commitments from the five countries that now host its forward-deployed nuclear weapons -- especially Germany, whose Bundestag voted six years ago to begin preparations to remove the arsenal.  
A stronger NATO would be better able to respond to the many other challenges it faces, from carving out a safe haven in northern Syria to pushing back against Islamic State. NATO is, as Obama said, a "linchpin" of U.S. security, but it needs greater investment and some restructuring to do the job well.
To contact the senior editor responsible for Bloomberg View's editorials: David Shipley at davidshipley@bloomberg.net.