Exposed
How Rising Seas Could Upend U.S. Politics
Vulnerable states face the mercy of unaffected voters.
by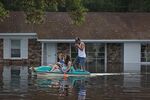 If the latest projections about the pace and scope of sea-level rise are even close to accurate, then get ready for a fight -- not starting in decades, but right now -- over which communities get saved, and who pays for it.
Detailed online mapping tools, including the National Oceanic and Atmospheric Administration's Sea Level Rise map and the nonprofit Climate Central's Surging Seas project, can tell us which states would be hit the hardest by the effects of melting Antarctic glaciers and other environmental changes.
Two things jump out. First, thanks to the vagaries of topography as well as tidal and development patterns, the social and financial burdens that the coastal states will have to bear are wildly unequal from one to the next. Second, the states in the most danger are generally among the country's poorest. 
There are different ways of measuring risk. Start with the most obvious: How much land would each state lose if sea levels rose by six feet, the amount projected by 2100 in a recent paper? The clearest takeaway is the disproportionate vulnerability of Louisiana, and to a lesser degree Florida and Delaware:

But just as interesting is that even assuming a sea-level rise of six feet, most coastal states would lose less than 1 percent of their land. Among the 24 coastal states plus the District of Columbia, only five would face a loss of 5 percent or more.
Of course, what's of greater worry for policy makers is what's on that land:

For most coastal states, a six-foot rise in sea levels would be economically challenging but not catastrophic. It's far different for a handful of states, most of them in the Southeast, most of them poor. Of the seven states with more than 10 percent of their coastal-county property value at risk from that magnitude of sea rise, all but New Jersey are in the bottom half of the national per-capita income distribution. 
So why does it matter how the hazards of rising sea levels vary between states? The ones that are most affected will demand federal assistance -- for sea walls, levees, more resilient roads and bridges, and, if all else fails, money to rebuild farther inland.
Those projects are enormously expensive. After Hurricane Katrina, the U.S. Army Corps of Engineers spent $14 billion rebuilding the levees that guard New Orleans. In southeastern Virginia, the Hampton Roads Planning District Commission estimated that coping with three feet of sea-level rise would cost between $12 billion and $87 billion.
Finding that kind of federal money for a handful of communities is one thing. But as requests for help increase, the constraints on providing it will be political as much as technical. Money spent on the needs of coastal states struggling with rising sea levels is money the federal government can't spend on Social Security, highways, education or anything else.
It's not hard to imagine those coastal states making common cause in arguing that the federal government has a responsibility to help. South Carolina, Louisiana and Alabama may oppose a strong federal government when it comes to social programs. They may feel otherwise when the activity in question is saving their cities and towns.
Inland states will probably view the federal government's obligations differently. And so sea-level rise has the potential to augment, in new and unpredictable ways, the schisms that already shape U.S. politics: urban versus rural; red versus blue; wet versus dry.
What happens to the Republican Party, for example, if the coastal Deep South becomes the leading advocate for big government and a carbon tax? And how much will the vast majority of voters -- who face much less risk of losing their homes, even a century from now -- be willing to offer those who do?
(
Corrects description of property value at risk from sea rise in second graph and seventh paragraph in article published April 6.
)
To contact the author of this story:
Christopher Flavelle at cflavelle@bloomberg.net
To contact the editor responsible for this story:
Brooke Sample at bsample1@bloomberg.net
Before it's here, it's on the Bloomberg Terminal.
LEARN MORE