2016 Elections
Clinton Can Shrug Off Wisconsin. Trump Can't.
Only the Democratic front-runner is on a glide path to the nomination.
by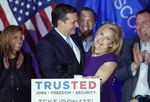 The big wins for Bernie Sanders and Ted Cruz in Wisconsin on Tuesday demonstrated why Hillary Clinton has an unbeatable lead on the Democratic side, and Cruz has a solid shot at heading the Republican ticket.