view
Etsy and Amazon Don't Just Want to Make Shareholders Rich
Other things are important, too. Like trinkets and tears.
by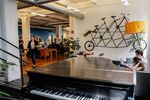 Etsy and Amazon.com seem like very different companies. As Handmade at Amazon goes head-to-head with Etsy for domination of the handcrafted-stuff market, in fact, one can envision a movie version pitting ruthless Seattle corporate apparatchiks against cuddly Brooklyn funtrepreneurs. After taking a break to cry at his desk, one of the Seattleites will fall for a crafter of fascinators and mini hats, and then … go back to grinding the Brooklynites into oblivion. Then there will be a nice scene with a golden retriever in a park. Seriously, the script writes itself!
Still, after reading Amy Larocca's story about Etsy in New York magazine, and Adam Lashinsky's profile of Amazon founder and Chief Executive Officer Jeff Bezos in Fortune, I can identify an important similarity between the two companies: They clearly aren't organized around the principle of maximizing shareholder value. (And that's OK.)
At Etsy this is explicit. The company is a B Corporation, meaning that it's "certified by the nonprofit B Lab to meet rigorous standards of social and environmental performance, accountability, and transparency." Meeting those standards and pursuing other idealistic goals takes priority over making shareholders rich. And since going public just under a year ago, Etsy certainly hasn't made shareholders rich: Its stock is down from a closing price of $30 on the day of its initial public offering to $8.32 at Tuesday's close. But Larocca makes it sound like Etsy is a swell place to work, and it undeniably has enabled huge numbers of craftsy people (there are currently 1.6 million active Etsy sellers) to find customers for their wares.
Amazon is another story, in that it is far less touchy-feely and has made its shareholders -- in particular its biggest shareholder, Bezos -- lots of money over the years. But it follows few of the customs of a modern, shareholder-friendly corporation. Amazon only intermittently turns a profit, and it does little to court investors. It sometimes appears to be, as journalist Matthew Yglesias once joked, "a charitable organization being run by elements of the investment community for the benefit of consumers."
You could argue that Amazon is simply pursuing the maximization of long-run shareholder value over short-term stuff -- the company's own mantra, uttered again and again and again in earnings calls, is that "putting customers first is the only reliable way to create lasting value for shareholders." Yet one still doesn't get the impression that Bezos is looking to maximize the discounted value of projected long-run cash flows with every decision he makes. He's out to have an impact, to have fun, to crush the competition, to make his employees cry, whatever.
Bezos's big investments outside Amazon -- the Washington Post Co. and rocket maker Blue Origin -- are even more obviously not aimed first and foremost at making him richer. As Bezos told Fortune's Lashinsky, "I would not have bought the Washington Post if it had been a financially upside-down salty-snack-food company." 
Is there anything wrong with a CEO or owner having priorities other than return on investment? Of course not. In a defense of shareholder-value maximization published last week, the Economist acknowledged that there are those who think it too narrow a goal for corporations to pursue, but countered that, "The trouble is identifying a goal that could replace the pursuit of shareholder value." That assumes all companies have to settle on the same goal, though.
The shareholder-value philosophy that has risen to dominance since the 1950s has its good sides. Among other things, to cite the Economist article again, it gives outsiders "a methodology with which to second-guess incompetent managers." But it is too often treated as a recipe that all corporations must follow if they are to succeed and make the economy flourish. In reality, it's terribly difficult to discern what will bring the greatest long-run returns for an individual company or for the economy as a whole. Which is why we're better off with different corporations trying out different goals.
To contact the author of this story:
Justin Fox at justinfox@bloomberg.net
To contact the editor responsible for this story:
Zara Kessler at zkessler@bloomberg.net
Before it's here, it's on the Bloomberg Terminal.
LEARN MORE