Editorial Board
Doctors Can Do More to Fight Addiction
The government is making it easier to treat addiction. Now, it's physicians' turn.
by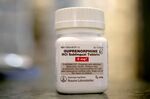 President Barack Obama can convene all the task forces, panel discussions and summit meetings he wants, and they may actually be useful. But a lasting solution to America's opioid epidemic depends mostly on a meaningful change in physicians' attitudes about treating addiction.
About 2 million Americans are hooked on prescription pain relievers, and some 20,000 people overdose each year, a rate that nearly quadrupled from 1999 to 2008. Two of the most crucial steps in fighting this epidemic are reducing the number of opioid prescriptions written (259 million in 2012 alone, more than one for every U.S. adult) and expanding access to medical treatment.
The first requires doctors to be less quick to resort to opioids, and monitor patients more closely for signs of abuse. The Centers for Disease Control and Prevention has issued new guidance for doctors prescribing opioids; the Food and Drug Administration is also adding safety labels about the risk of addiction.
To help with the latter, the Obama administration on Tuesday proposed increasing the number of patients a doctor can treat with buprenorphine, the leading anti-addiction medication, to 200 from 100. The limit is meant to reduce the odds of the drug, which can cause opioid-like highs, getting onto the black market. Raising it is a reasonable step; the number can probably go even higher.
Equally important, however, is increasing the number of doctors who want to provide this treatment in the first place. Of the country's 800,000-plus doctors, just 32,319 have been certified to prescribe buprenorphine. And that number isn't increasing nearly as quickly as the opioid crisis demands; only 16 percent of those received their certification in the past year.
Part of the explanation may be the inconvenience of the application process, which requires an eight-hour course. But there is also evidence that physicians are reluctant to take part. One study of doctors in Washington state found that even among those who get certified to prescribe buprenorphine, only a minority actually do so.
The most-cited explanation was a lack of counseling to accompany treatment -- even though it's not clear that such counseling makes a difference. Doctors also blamed time constraints, concern about managing addiction and (most tellingly, perhaps) resistance from their colleagues.
The American Medical Association acknowledged this week that physicians need to do more. Until more doctors put aside their unease or lack of interest in treating addicts, the opioid epidemic won't end.
--Editors: Christopher Flavelle, Michael Newman.
To contact the senior editor responsible for Bloomberg View's editorials: David Shipley at davidshipley@bloomberg.net .
Before it's here, it's on the Bloomberg Terminal.
LEARN MORE