Economics
San Francisco Can Afford a $15 Minimum Wage. Mariposa Cannot.
Where rich industries dominate, no problem. Elsewhere? We'll see.
by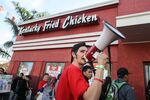 California has reached a deal to raise its statewide minimum wage to $15 an hour. This would certainly be a breathtakingly broad political experiment. The question is whether it will turn into a breathtaking disaster.