Latin America
Obama's Other (More Important) Trip
A visit to Argentina could shape Latin America more than U.S.-Cuba relations will.
by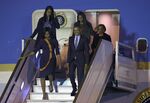 When U.S. President Barack Obama flew over the Florida Straits this week, something big was in the making. No, not that trip. The state visit to keep your eye on starts Wednesday, in Buenos Aires.
Sure, a U.S. head of state calling on Cuba -- the first such visit in 88 years -- and prodding (if gingerly) his authoritarian hosts to embrace human rights and democracy, is something to cheer about. But aside from the partisan passions that Cuba still inspires in the U.S., the Cold War that Obama symbolically buried in Havana is a row the rest of the world got over years ago.
Trade, diplomacy and investment can hardly measure up to a Che Guevara T-shirt or send Simon and Garfunkel into song, as revolutionary Cuba once did, but Obama's trip to Argentina is rich in symbolism and arguably even more important for Latin America's future. Obama arrives as Argentine President Mauricio Macri is struggling to restore growth and credibility after 13 years of erratic populist rule that clove society in two, nearly broke South America's second-largest economy and turned the country into an international financial pariah.
If Obama's mission in Cuba was to lay to rest the last century's quarrels, the opportunity in Argentina is to hail a region at a turning point, where ecumenical, results-focused politics may become the new Latin American normal.
"The landscape is shifting, with crises hitting populist, left-wing governments in Brazil, Venezuela, Ecuador and Bolivia," said Michael Shifter, president of the Inter-American Dialogue, a think tank. "By going to Argentina now, as the country is trying to return to normalcy, in a way Obama is sending an important signal about the way things ought to be in Latin America."
Macri, a 57-year-old old businessman-turned-politician, who took office in December, is as pragmatic and calculating as his predecessor, Cristina Fernandez de Kirchner, was quixotic and tendentious. So it's hardly surprising that Macri's first months in office have been consumed by trying to settle conflicts with aggressive creditors, big farmers and the Argentine news media that the so-called Kirchner dynasty -- first President Nestor Kirchner, and then his wife and successor, Fernandez -- nurtured for more than a decade.
In fact, it was during Kirchner's presidency that U.S. relations with Argentina, though always volatile, hit bottom. In 2005, President George W. Bush arrived in Argentina for the Summit of the Americas, where he hoped to talk regional leaders into a hemispheric free trade area, known in Latin America by its Spanish acronym, Alca.
Bush's stay lasted just 36 hours. Kirchner teamed up with leftist Brazilian president Luiz Inacio Lula da Silva and the voluble Hugo Chavez, leader of Venezuela's "Bolivarian Revolution," to kill the initiative, which they saw as a Trojan Horse for gringo meddlers. "Alca, Alca, al carajo" (Alca, Alca, go to hell), Chavez brayed to cheering crowds in Argentina.
That confrontational posture played well with Latin Americans through the last decade, when soaring global demand for grain, beef and oil and gas buoyed growth, created jobs, and filled government coffers with taxes and hard currency. But Argentine hubris outlasted the commodities bonanza, leading government into a protracted battle over outstanding loans from the 2001 debt moratorium -- a conflict that has chased away investors and tied the country up in international court ever since.
One of Macri's first gestures was to reopen talks with the holdout creditors, and his plan to settle up has passed Congress and is touted to win in the Senate.
Obama does not have the clout to summon investors or suddenly restore Argentina to international creditors' grace. The days when Washington could lean on central banks around the world to bail out ailing debtors, as it did during the Latin American debt crisis of the 1980s, are over.
And not all Latin Americans (least of all the Argentines) are wild about their outsize neighbor to the north leaning in, even when good intentions are involved. Human rights advocates have protested that Obama's visit coincides with the 40th anniversary of the Argentine military takeover, when a dictatorship, with early blessings from the U.S., waged a dirty war on dissidents, eventually killing or "disappearing" some 30,000 people. Obama may have blunted some of the criticism by announcing the U.S. will release classified government documents on the dirty war.
What Obama can do is reach out to a leader trying to make a difference. "Obama's presence sends a message that the U.S. recognizes Argentina's new policy framework and wants pragmatic reforms to succeed," said Shifter. For a region that so often has swooned to charmers and autocrats, that's good news, indeed.
(
Corrects number of times Hugo Chavez repeated "Alca" in eighth paragraph of article published March 23.
)
To contact the author of this story:
Mac Margolis at mmargolis14@bloomberg.net
To contact the editor responsible for this story:
Tracy Walsh at twalsh67@bloomberg.net
Before it's here, it's on the Bloomberg Terminal.
LEARN MORE