Currency
A Welcome Cease-Fire in the Currency Wars
by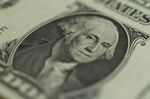 Call it the Shanghai Accord. There's been a burst of speculation that last month's Group of 20 meeting in China produced a secret agreement between policy makers to halt the dollar's advance against its peers in the currency market.
Whether true or not, even a modest reversal in the greenback's advance against the U.S.'s major trading partners is welcome given the fragility of the global economic outlook and the accompanying need for the world's biggest economy to shoulder the burden of delivering growth.
The first rule of currency wars is that you don't admit there's a currency war. Policy makers expend an awful lot of energy denying they're engaged in a race to the bottom while hinting their neighbors are doing exactly that. Post-Shanghai, there's even more chatter and finger-pointing than usual -- in large part because, as is true of most wars, none of the combatants has benefited from the battle.
India's central bank Governor Raghuram Rajan published an article on Monday explicitly calling for "a new international agreement along the lines of Bretton Woods" to prevent "competitive devaluations that leave no country better off." But a day later, Reserve Bank of Australia Governor Glenn Stevens said his currency "might be getting a bit ahead of itself," even as the U.S. revealed that its International Monetary Fund representative had in September "expressed concern" about Australia trying to talk its currency lower. And former Bank of England Governor Mervyn King told Bloomberg Television on Monday that both Japan and the euro zone "are trying to push down the exchange rate."
Monday's comment from India's Rajan on the need for coordination is significant, especially given that other officials have rejected talk of an accord (including Chinese Finance Minister Lou Jiwei, who dismissed the idea as "just fantasy"). Paul Mortimer-Lee, the chief economist at BNP Paribas and a former head of forecasting at the Bank of England, reckons the G-20 is engaged in "low intensity currency wars" without explicit coordination.
But Pimco global economic adviser Joachim Fels disagrees and speculates that there has been "some kind of tacit Shanghai Accord" to weaken the dollar, similar to the 1985 Plaza agreement but using monetary policy to nudge currency values rather than market intervention to buy and sell dollars. The evidence in favour of a cessation of hostilities includes the Federal Reserve's recent backtrack on how many rate increases it might implement this year (a  negative for the dollar) and the European Central Bank's hint that its interest rates won't drop much further into negative territory (a positive for the euro).
Whether or not explicit collusion has occurred, there's no question that the dollar has been the chief victim of the trash-talking. In the past two years, it's strengthened by as much as 26 percent against its peers on a trade-weighted basis according to indexes compiled by the Federal Reserve. With the world's economic hopes resting in large part on the U.S.'s ability to sustain an annual growth rate surpassing 3 percent rather than dipping below 2 percent, the dollar's recent retracement would seem to be good news:

The recent changes may partly be down to doubts about the Fed's ability to raise rates further and investor fatigue after driving the greenback higher for so long. But assuming the dollar's decline isn't due simply to natural forces, a ceasefire -- coordinated or accidental -- is a good thing. Every country can't have the weakest currency simultaneously, and the euro zone's dismal outlook offers a compelling example of how overreliance on a weak currency to boost exports can let governments off the hook on implementing structural reforms needed to build for the future.
So a communal realization on the part of the world's authorities that an ever-advancing dollar isn't good for global growth would be healthy.  Provided the dollar stops ascending and threatening to choke off the nascent recovery, it doesn't really matter why it's halted -- so long as there's a pause to refresh U.S. growth.
This column does not necessarily reflect the opinion of the editorial board or Bloomberg LP and its owners.