Food
All Fads Fade. Even Bacon.
For now, though, pork's comeback keeps trotting along.
by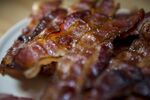 The biggest story in American meat over the past half-century has been chicken replacing beef as the country's leading protein source. But lately there's been another livestock drama playing out: the resurgence of pork. Writes Bloomberg's Lydia Mulvany:
With Americans expected to eat the most pork since 2007, money managers are now the most-bullish since 2014 on hog futures, which already are at a nine-month high. Fast-food restaurant owners like McDonald's Corp. are selling more bacon, and the price of pork bellies used to make the rashers has surged 30 percent this year.
The bacon boom continues, apparently. And more generally pork, "America's leading meat in the 19th century," has been regaining ground it lost to beef in the 20th. Early last year, the U.S. Department of Agriculture predicted that pork production in the U.S. would soon surpass beef production. Now it has actually happened:

This doesn't mean that Americans eat more pork than beef. In fact, they don't. Net exports amount to about 15 percent of pork produced in the U.S., while the country is a net importer of beef. Rising exports (Mexico and Japan are the two biggest buyers of U.S. pork), seem to have accounted for all the gains in pork production from 2000 through 2012:

This export increase was driven largely by changes on the supply side. After figuring out how to mass-produce chicken, U.S. farmers applied similar methods to pork. Such factory farming, while it comes in for a lot of criticism (I leveled some last year), allows U.S. producers to keep prices low and gain market share overseas.

More recently, though, domestic demand has been on the rise. Since 2011, U.S. per-capita annual pork consumption has gone up by about 5 pounds (from 45.1 pounds to a projected 50.4 pounds this year). Overall meat consumption has been rebounding after a fall during the recession, and the production efficiencies described above have increased pork's price advantage over beef. But there also seems to have been something of a return to fashion for pork -- pork bacon in particular. From a 2014 Bloomberg article by David Sax:
In the past decade, bacon has grown into an industry generating more than $4 billion in annual sales. It has moved from a breakfast meat to a food trend touching an incredible array of consumer goods, both edible and not, from bacon-heavy fast-food burgers and bacon-infused desserts at fine dining restaurants to bottles of bacon-distilled vodka and even a sexual lubricant formulated to smell (and taste) like bacon. More than cupcakes, ramen, or kale, bacon has become the defining food trend of a society obsessed with food trends. 
Sax described how the National Pork Board and its members helped engineer the rise of bacon by promoting pre-cooking techniques that made it easier for fast food restaurants to include bacon on their menus. Then high-end chefs and hipsters jumped on the bacon bandwagon, too. The big move by McDonald's last fall to start serving breakfast all day added yet another source of demand for bacon (and pork sausage).

The late food writer Josh Ozersky argued in 2014 that this bacon boom will never end:
At this point, if bacon were a trend, it would be over. But it's not. Kale and ramen burgers will come and go, yet our national fascination with cured, smoked pork belly is everlasting—it's a full-blown obsession.
Actually, the kale boom is still going strong, too. Food fads can lead to permanent shifts in consumption patterns. Still, a person can only eat so much bacon -- and I say that as someone who really likes the stuff. There is evidence that eating lots of bacon leads to increased risk of colorectal cancer. Plus, it just tastes better in small amounts. No, we're probably not headed for a bacon bust. I'm willing to predict a bacon plateau, though.
This column does not necessarily reflect the opinion of the editorial board or Bloomberg LP and its owners.