U.S. Economy
What the U.S. Offers the World
Exporting services may be key to keeping the trade deficit from ballooning.
by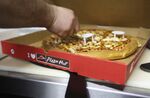 When it comes to stuff, the U.S. buys a lot more from the rest of the world than the rest of the world buys from it. The country last ran an overall trade surplus in 1975, and there are few signs that it will stop running big trade deficits anytime soon.

Still, there is an area where the U.S. runs large and growing trade surpluses: non-stuff, also known as services.