Brazil
Rousseff's Gamble on Lula Isn't Likely to Pay Off
The Brazilian president's latest maneuver looks like an exercise in magical realism.
by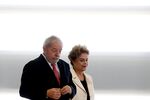 It's getting hard to keep up with the rolling political crisis that's steadily engulfing Latin America's biggest nation. On Wednesday, Brazilian President Dilma Rousseff named former president Luiz Inacio Lula da Silva as her new chief of staff. It was a bold move that seemed calculated not so much to help Brazil through troubled times as to prop up her own enfeebled presidency and throw a lifeline to her tarnished political mentor.
That plan lasted until nightfall. Just hours after it was confirmed that Lula had been selected as Rousseff's chief of staff, Brazilian media began airing snippets of wiretapped conversations which suggested that the two leaders had conspired to evade justice. (On the argument that Lula's position could also allow him to influence ongoing legal investigations, a federal judge ruled to block the nomination, although government lawyers quickly filed an appeal.) If those charges -- and many others clouding Rousseff's government -- hold up in court, her gamble to save her career could end up quickening calls for her ouster and help push Lula, a living Brazilian legend who redeemed the poor and brought the country international glory, into disgrace.
In part, the damage already may be done. The telephone intercepts were part of an ongoing investigation into graft at the state oil company Petrobras, which has ensnared top business executives and lobbyists, and is now reaching deep into the country's political establishment. On March 4, Lula was detained and interrogated by federal police for allegedly receiving favors from contractors caught up in the Petrobras scheme. In a related case, Sao Paulo state prosecutors announced they were seeking Lula's arrest for money laundering and hiding assets.
Lula's appointment looks at the least like forum shopping: Only the Supreme Court may try sitting government authorities, a perk that would spare Lula the rigors of Sergio Moro, the implacable federal judge who is presiding over the Petrobras case. But Brazilians would be forgiven for concluding that it's also a shameless maneuver to head-fake the law. In one tape, Rousseff assures Lula she's sending over written confirmation of his pending cabinet appointment, a document that presumably would shield him from arrest.
Rousseff anticipated just such criticism, scoffing at suggestions that the country's highest bench would somehow be more indulgent than a lower court. She had a point: After all, in 2012, some two dozen moguls, lobbyists and powerful political figures tied to the former Lula government were convicted in a vote-buying scam after a trial in the Supreme Court, where eight of 11 judges had been named by Lula or Rousseff.
And yet a former senior government ally has told prosecutors that Rousseff tried to meddle in the Petrobras investigation by naming a superior court judge whom she allegedly deemed to be amenable to releasing two jailed government contractors. Rousseff has denied any wrongdoing.
But even the most generous interpretation of Rousseff's gamble on Lula -- that the former leader's prestige can rally rebellious allies, rescue the economy and whip up enough congressional votes to avoid impeachment --  looks like an exercise in magical realism.
Lula's rise owes to his extraordinary charisma, pragmatism and skills as a political dealmaker, but also to a fabulous stroke of luck. He led Brazil during the international commodities boom, which fueled economic growth over the last decade, helped lift 28 million people from poverty, and turned Brazil for the first time into a majority middle-class society.
But the boom is over, and while many Latin American countries continue to grow, thanks to more prudent economic stewardship, Brazil's economy is failing. Unemployment in 2015 reached a three-year high, and the aspiring middle class is slipping back. And now so is Lula.
Despite Lula's vehement denials, a black-market financier at the heart of the corruption case has claimed that both he and Rousseff knew about corruption at Petrobras, a scam that prosecutors have traced back to his presidency. Brazilians seem to agree.
Thirteen years ago, I watched adoring crowds cheer as the lathe-operator-turned-president climbed the concrete ramp to Brasilia's handsome Planalto Palace. Now, the crowds are back at the palace -- this time to demand Lula's arrest and Rousseff's resignation. The hero of the day? The federal court judge who suspended Lula's nomination yesterday, who became an instant celebrity on Brazilian social media.
This column does not necessarily reflect the opinion of the editorial board or Bloomberg LP and its owners.