U.S. Economy
Some States Are Losing Jobs. Most Aren't.
Economies built on energy are shaky. Others are thriving on low oil prices.
by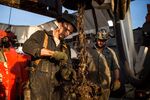 North Dakota, a hotbed of the now-cooled fracking boom, lost 21,100 jobs from January 2015 through January 2016. That's a 4.5 percent decline, by far the worst performance of any state over the past year, according to payroll employment numbers released this week. Employment in the state is up by a lot since the nation's jobs recovery began in early 2010, though:

Overall, the job market in the U.S. is still strong, according to the national employment report released March 4. But North Dakota isn't the only place where jobs are disappearing. Six states saw payroll employment decline over the 12 months ending in January. Here are the others (to make the numbers comparable, I've indexed them to a starting point of 100 in January 2010; a reading of 108, for example, means an 8 percent job gain since then):

All of these job-losing states are big producers of oil, natural gas and/or coal. Among the top 10 oil producers are North Dakota (No. 2), Alaska (4), Oklahoma (6), Wyoming (8) and Louisiana (9). Oklahoma (3), Louisiana (4), Wyoming (5) and West Virginia (9) are in the natural gas top 10. Wyoming (1), West Virginia (2) and North Dakota (9) are in the coal top 10. These are tough times for drillers and miners of fossil fuels, so it's not surprising that states with lots of drilling and mining are suffering.

Pennsylvania, the No. 2 gas producer and No. 4 coal producer, isn't doing great either. Job growth was an anemic 0.6 percent for the 12 months ending in January, and the state has actually shed jobs lately (a 0.2 percent decline over the three months ending in January). Employment has kept growing in the state's big metropolitan areas -- strongly in Philadelphia, weakly in Pittsburgh -- so the troubles are elsewhere, probably in the vicinity of the coal mines and gas wells.

Four other states (along with all the energy states mentioned above except Louisiana) also lost jobs over the three months ending in January: Alabama, Kansas, Illinois and Wisconsin. Those are all states where manufacturing is a big deal, and they've probably been hurt by the strength of the dollar. They also all happen to be in the midst of experiments in fiscal austerity, conducted largely by choice in Alabama, Kansas and Wisconsin and imposed by big pension problems in Illinois. Oh, and Illinois is the country's No. 5 coal producer and Kansas the No. 10 oil producer.

So that's the bad news in the state employment data. And it is bad, if you live in one of the affected states. Pretty much everywhere else in the U.S., though, things are looking up. The biggest oil and gas producer (and No. 6 coal producer), Texas, is still adding jobs, at a slowing but healthy 1.6 percent annual pace. That's because it has a huge economy with lots going on besides energy production. The same goes for California, the No. 3 oil producer, with 2.8 percent annual growth. And the same goes for the U.S., where employment grew 1.9 percent over the 12 months ending in January -- down a little from the 2.2 percent pace of a year before, but not bad at all.

Some states are just plain booming. Seventeen states experienced faster job growth than the country as a whole over the 12 months ending in January, and four saw growth of more than 3 percent:

What does this brief tour through state-level employment data teach us? That the U.S. economy contains multitudes, I guess. Energy-producing states have been battered over the past year, and a few manufacturing states are wobbling. But the rest of the economy has been doing OK. In fact, the rest of the economy has surely profited from the low, low prices that have caused the energy sector such pain, and may have benefited from the strong dollar as well.
None of this guarantees that the economy won't be pushed into a recession by something or other this year. Nonfarm payroll employment is a coincident indicator, not a leading one. A credit crisis led by collapsing energy companies, or a global recession led by troubles in China or Europe, could drag down a lot more state economies. But for now, the U.S. economic picture is of a few states in trouble and a lot that aren't. 
This column does not necessarily reflect the opinion of the editorial board or Bloomberg LP and its owners.