Editorial Board
Merrick Garland Deserves a Hearing
Obama's nominee for Supreme Court merits serious consideration.
by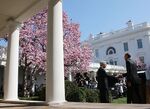 There are at least two criteria on which to judge President Barack Obama's nomination of Merrick Garland to the U.S. Supreme Court. First are his qualifications. Second is the ideological space that he would occupy on a polarized court in a polarized political environment.
Garland is a superb choice on both counts.
Garland's experience -- while not quite as nontraditional as Obama indicated he wanted in his nominee -- would serve the court well. A two-decade veteran of the U.S. Court of Appeals for the District of Columbia Circuit, where he is chief judge, Garland also worked in the criminal division of the Justice Department, where he led the prosecution of Oklahoma City bomber Timothy McVeigh. He has also been a partner at a large corporate law firm and, like Chief Justice John Roberts, was a clerk early in his career for the legendary late Judge Henry Friendly. 
On the D.C. Circuit, his opinions have been notable for their measured tone and failure to inspire controversy -- though it should be noted that the court's caseload is heavily oriented toward regulatory conflicts and other legal skirmishes involving federal power. Such cases are undeniably important and can be ideologically divisive, but they are less politically charged than those that reach the Supreme Court involving abortion, gay rights and other social conflicts.
In nominating a 63-year-old judicial moderate, Obama took the opposite tack desired by his party's most eager partisans: He is betting that Garland's career and ideological disposition simply lack the stuff of election-year passions.
The president is probably wrong about that. About an hour after Obama announced Garland's nomination, Senate Majority Leader Mitch McConnell reiterated that the Senate would simply treat the president's nomination as if it didn't exist. It was a hard argument to make even when it didn't actually exist -- and it's even more absurd now that there is a flesh-and-blood nominee to consider.
McConnell and his colleagues are free to reject Garland after holding hearings and taking a vote. The Senate has the right to provide advice and consent, but not the duty.
The political wisdom of refusing even to consider Garland, however, is another matter. The Senate voted 76 to 23 to confirm him 19 years ago, and his reputation has only grown since; just last week, Senator Orrin Hatch called Garland a "fine man" but doubted Obama would ever nominate him. Hatch was taken by surprise. Now it's time for Senate Republicans to give Merrick Garland the serious consideration he deserves.