Editorial Board
A Homegrown Solution to Terror in West Africa
More regional cooperation is the best way to beat al-Qaeda and Islamic State.
by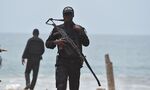 Preventing small bands of suicidal fanatics with Kalashnikovs from shooting up hotels is a tall order for any government. So Ivory Coast will need outside help as it responds to last Sunday's slaughter at a seaside resort favored by expatriates. But a lasting solution to the regional threat of terrorism depends more on cooperation among West African nations than on the U.S. or France. 
With the deaths of at least 18 people in this week's assault, more than 50 people have been killed since last November by terrorists in high-profile attacks on hotels and resorts. Along with Burkina Faso and Mali, Ivory Coast has been caught up in a deadly one-upmanship between al-Qaeda and Islamic State, as they vie for adherents from local Muslim populations that have themselves come under the sway of fundamentalist preachers funded by Middle Eastern states.
In taking credit for the attack, al-Qaeda claimed to be fighting French neocolonialism. That may not convince the most ardent Francophones in the Ivorian capital, Abidjan, but it may strike a chord with others angered by corruption and lack of opportunity in Ouagadougou, or those who have suffered in the long, French-backed fight against Islamic rebels in northern Mali.
Such sentiment notwithstanding, Western training and support for security forces must of course continue. The United Nations might want to slow down its planned withdrawal of peacekeepers from the Ivory Coast. And each of these nations remains in dire need of foreign aid and investment.
Yet relying too heavily on French rapid reaction forces or expanding the role of U.S. drones and special forces in fighting terrorists risks reinforcing al-Qaeda's self-justifying toxic narrative. As the cases of Iraq and Afghanistan show, it can also create a kind of free-rider problem, undercutting any incentive a state may have to get its own act together.
The governments of West Africa need to make good on their much-vaunted plans for joint military forces to fight terrorist groups. They also need to fulfill their pledges to cooperate with one another on sharing intelligence, setting rules for "hot pursuit" across borders, and shutting down terrorist financing. And they need to cooperate in monitoring the influx of fundamentalist clerics and charities that have turned mosques and educational institutions into a battleground for outside forces.
Ivory Coast, Mali and Burkina Faso are not wealthy nations, and each is recovering from an insurgency, a coup or some other form of civil unrest. If they want to show their citizens they are capable of protecting them -- and strengthen their state institutions as well -- the first thing they need to do is cooperate more closely in the fight against terrorists.
--Editors: James Gibney, Michael Newman
To contact the senior editor responsible for Bloomberg View's editorials: David Shipley at davidshipley@bloomberg.net .
Before it's here, it's on the Bloomberg Terminal.
LEARN MORE