Wall Street
Ackman's Valeant Investment Keeps Getting Worse
There are few pages left in the activist investor playbook.
by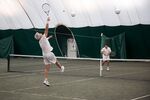 So here's some good news out of Valeant. Remember a couple of weeks ago, when Valeant was doing one-on-one calls with selected research analysts, and those analysts were then telling clients what they had learned? That struck people, including me, as a bit odd. A lot was going on at Valeant! Chief Executive Officer Michael Pearson was just back from medical leave, it had just withdrawn its guidance, it had discovered accounting problems that would delay the filing of its financial statements, and now the CEO was going around chatting up analysts privately? Sure, Valeant said that "in engaging in such dialogue, Valeant's officers are cognizant of obligations under Regulation FD, and it is the company's policy not to selectively disclose material non-public information," but it was a little difficult to believe that Valeant hadn't told those analysts anything useful. Why else have the calls, for one thing? And, for another thing, the calls seemed to move the stock:
One of those analysts called a web chat for 2 p.m. Tuesday, March 1, to tell his clients what he'd learned from Pearson. In the next hour, Valeant shares rose more than 8%.
Cynical observers like me might have expected that favored analysts and investors had gotten some inkling of what Valeant was going to disclose in its preliminary earnings and guidance today, and on its subsequent public investor call. That inkling probably didn't rise to the level of obvious material nonpublic information -- I am not that cynical -- but was probably more of a vague reassurance, along the lines of what Pearson told his executives, that "there is no other big shoe to drop that I am aware of." Enough body-language-type reassurance to calm the analysts, buoy the stock a little and provide fodder for some academic discussions of what exactly it means for information to be material.
Nope! To Valeant's credit (?), the one-on-one calls seem to have been utterly, incredibly, bafflingly uninformative. Two weeks ago:
"Nothing we heard changes our positive view," UBS Group AG's Marc Goodman said in a note.
In an interview, Raffat said Pearson hadn't discussed guidance numbers. Based on the CEO's overviews of situations with certain drugs and foreign-exchange issues, Raffat said he determined there wouldn't be "wholesale" changes to guidance.
And today:
Valeant Pharmaceuticals International Inc. shares plunged Tuesday in their worst day ever, falling 51 percent after the company cut its 2016 forecast, reported a weak fourth quarter and said it risked breaching some of its debt agreements if it can't file its annual report in time.
The guidance for first-quarter adjusted earnings per share was down to $1.30-$1.55, from $2.35-$2.55, which I guess qualifies as "wholesale." The possibility of a debt covenant breach is also an exciting addition to the mix. 
I said two weeks ago that I don't understand Valeant's investor relations strategy, but that strategy has since moved beyond mystifying into the realms of performance art. Why have one-on-one calls to reassure analysts, only to massively sandbag them with bad results and guidance two weeks later? Why -- good lord, why -- put out an earnings release that you know will be carefully scrutinized, and then have to issue a correction because you put the wrong guidance number in? "It's a bit of a starting-over-point for me and this company," said Pearson on the call, but I am not actually sure that the financial markets work that way? You can't just push the reset button. "Valeant has had to abandon its previous acquisition-led growth model and step back from its practice of sharply increasing drug prices," but it still has the $30 billion of debt left over from the old model, which it is working to pay down. Bondholders are not fans of reset buttons; starting over as a small, humble, low-growth, low-priced pharmaceutical company is easier when you don't have a mountain of debt reminding you of the wild old days. 
One person who really wants a reset button on Valeant is Bill Ackman, whose Pershing Square Capital Management has lost just an absolutely comical amount of money on its Valeant stake. Pershing Square's common stock position -- some 21.6 million shares -- lost more than $700 million in value today. Its stock options, for which it paid about $61.6 million back in the heady days of November, are now worth a large negative amount of money: Pershing Square bought call options that are now very far out of the money, and sold put options with a $60 strike price that are now -- just as of today -- uncomfortably in the money. Under those options, Ackman is on the hook to buy about 9.1 million shares of Valeant at $60; it closed today at $33.51. By my rough math Pershing Square's options positions lost almost $220 million of value today. 1
Or to put it in other terms, here's a running tally of Pershing Square's investments in Valeant 2 :

Pershing Square has put a total of about $4.1 billion into Valeant. 3  Here's how much that's worth today:

Oops! Back when Pershing Square bought its Valeant options, I did a little chart of its expected payoffs at various stock prices. Here's an update to that chart, showing the value of Pershing Square's stock (the gray line), options (the light blue line), and total position (the black line) at various stock prices. Just to be cruel, I have added a dark blue line representing Pershing Square's $4.1 billion investment, floating unattainably just above the highest point on the black line:

By my rough math, Pershing Square breaks even at a stock price of about $161.21. It's got another, sadder breakeven at a stock price of about $17.82. That's where the value of its position becomes negative -- that is, where it's lost its entire $4.1 billion, and is still losing more. 4  It is much, much closer to that breakeven than it is to $161.21.
I don't know what to tell you about this. Ackman is quite reasonably unhappy, saying that Valeant's revised guidance and inability to file its financial statements "have caused investors to lose total confidence in the company," and announcing that he is going to keep a closer eye on the company from now on:
Last week, Steve Fraidin, our Vice Chairman, joined the board. 5 We are going to take a much more proactive role at the company to protect and maximize the value of our investment. We continue to believe that the value of the underlying business franchises that comprise Valeant are worth multiples of the current market price. Getting to those values, however, will require restoration of shareholder confidence in the management and governance of the company.
It is a sad fraying of a once-fond relationship with Pearson, whom Ackman has compared to Warren Buffett. 6  It is also a little hard to see where the relationship goes from here. Pearson, and Valeant, are more or less everything an activist could want from a CEO and a company: Obsessed with shareholder value, compensated accordingly, disciplined on costs, open to leverage and financial engineering. Everything's great except, you know, the stock price. And perhaps the underlying business. 7 There just aren't a lot of moves left in the activist playbook to turn it around.
That is, just using Bloomberg's Black-Scholes calculator defaults (and calculating a price for Ackman to close out the options, that is, buy the puts and calls he sold and sell the calls he bought), I calculate the options being worth about negative $54.2 million yesterday and about negative $273.6 million today:

This is of course for entertainment purposes only.

I should say that this counts just investments in Valeant. There is the separate issue of Valeant's and Pershing Square's joint run at Allergan, in which Pershing Square acquired a toehold in Allergan, and in which Allergan was ultimately sold for a much higher price. That deal left Pershing Square up almost $2 billion, which arguably softens the blow of its Valeant losses.

On the other hand, you could if you wanted to point to Allergan's vigorous defense, which included questioning Valeant's business model, as the beginning or harbinger or even cause of Valeant's collapse. 

Here I am talking about the intrinsic value of the options, not Black-Scholes value, though at $17.82, you know, close enough. Down here I will confide to you that I built a Black-Scholes calculator with a data table that would have given you this chart using theoretical rather than intrinsic values, but then I accidentally deleted it. Also I suspect the intrinsic values are more interesting anyway. January 2017 is not that far away.

Also I am ignoring time value of money, financing costs, etc.

Disclosure: Steve Fraidin co-taught the mergers and acquisitions class that I took in law school. Good times.

Come on, though. That's just the baseline level of praise from a long investor, the way "Enron" is the baseline level of criticism from a short seller. "I guess all finance arguments come down to 'is this company Berkshire Hathaway or Enron?'" I once tweeted, during Pershing Square's defense of Valeant against short-seller Andrew Left's charges that it was "the Pharmaceutical Enron."
To contact the author of this story:
Matt Levine at mlevine51@bloomberg.net
To contact the editor responsible for this story:
James Greiff at jgreiff@bloomberg.net
Before it's here, it's on the Bloomberg Terminal.
LEARN MORE