view
In Iran, Sanctions Windfall Won't Do Much
Tehran's budgets are a mess thanks to low oil revenue.
by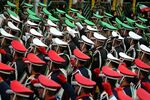 The nuclear deal signed with Iran earlier this year will, on paper, shower more than $100 billion of unfrozen assets on the country -- a quarter of its gross domestic product. It's also fighting wars in Iraq, Syria and Yemen, arming Hezbollah in Lebanon and Hamas in Gaza, and testing its own ballistic missiles capable of reaching Israel. So far, so bad; no good can come of even a share of that money winding up with the Iranian Revolutionary Guard Corps.
But a week spent in Tehran made clear that Iran's one-off sanctions windfall is unlikely to be anywhere near enough to compensate for the annual losses the country is incurring from low oil prices. Indeed, if the goal is to starve the Revolutionary Guard of funds, focusing on the unfrozen assets may be a diversion. 
QuickTake Iran's Nuclear Program
In the year ahead, the government forecasts oil revenues of just $23 billion, compared to a peak of over $100 billion in 2011. According to Saeed Laylaz, an economist and former adviser to the reformist ex-President Mohammad Khatami, even if exports return to pre-sanctions volumes, at a $40-per-barrel price, they will bring the government half as much revenue as in 2013, at the height of the sanctions.
So, even a one-off $100 billion windfall from the unfreezing of Iranian assets would restore government finances to their bloated pre-sanctions level for only about a year. Thereafter, the government would have to scramble again.
The U.S. government has put the figure for unfrozen assets that will get sent back to Iran at $50 billion or $55 billion, because so much of the headline number is either committed elsewhere or tied up in foreign debt. The Obama administration has a political interest in keeping Iran's windfall low, so take its figure as one estimate.
An adviser to President Hassan Rouhani has said the government already has access to the $100 billion. But while this may be so, no clearing banks have started handling Iranian funds, so they can't yet be repatriated. Given that the nuclear deal was as controversial in Iran as it was in the U.S., Rouhani has an interest in making the number as big as possible. So take that as another estimate.
Another view comes from business people in Tehran, who think both numbers are too high. They start with the Treasury's smaller figure as, in their view, the more realistic one. Then they deduct money the government had drawn down from the central bank and will therefore return to it, as well as further billions the government has pledged as collateral against investment projects already under way.
"We calculate that this will leave $6 billion to $7 billion available for the government to spend," says Rouzbeh Pirouz, chief executive of Turquoise Partners, a financial services firm in Tehran. "I'm always telling our people to lower expectations -- this is going to take time," Pirouz told me. People at two other Tehran consultancies I spoke with came up with similar figures. A spokesman at the economy ministry declined to comment.
It seems likely there will be more than $7 billion available by the time this is all done, perhaps substantially more. One Iranian official, who spoke on the condition he not be named, said the government doesn't yet know how much money there will be. During sanctions, complex payment, barter and borrowing arrangements were created, and they will take time to unwind. Some payments to Iran made under sanctions and squirreled away in escrow funds will surely return. As the recent sentencing to death of oil trader Babak Zanjani for the sanctions-era theft of $2.7 billion from National Iranian Oil Co. suggests, other funds won't.
In Tehran, though, there is a mounting sense of frustration that nothing tangible has happened yet.
At a recent conference organized by Iran's Central Bank and the law firm Open Iran, virtually all discussions led to the same question: When will the major British, German and French clearing banks start transferring Iranian funds so that the big European contracts initialed in recent months can be activated? U.S. banks can't clear Iranian money due to pre-nuclear sanctions that remain in place. None of the big European banks are moving yet for fear of being fined by the U.S. Department of Justice -- either if the nuclear deal should break down and sanctions snap back into force, or if the U.S. takes a hard line on the handling of funds from companies that turn out to have hidden beneficiaries still on the sanctions list. (Remember the $9 billion BNP Paribas had to pay in 2014, for busting U.S. sanctions?)
Peter Meyer, a former banker and now chief executive of the Middle East Association, a U.K. trade association, thinks it will take a good six months. He points to the settlement agreements that many big European banks have had to sign with the Justice Department. In the meantime, some of Iran's private banks, such as Middle East Bank and Bank Mellat, told me they've already set up arrangements with smaller European institutions that don't have a large U.S. exposure. These will be able handle only smaller transactions.
What's potentially more interesting than the remaining sanctions issues is that cheap oil may force the government to rely more heavily on taxation to fund its investment plans. Executives at Iranian companies here told me tax officials are now inspecting invoices with greater care, hoping to raise revenues by clamping down on deductible costs. Customs rules have also been changed to make it harder to game the system.
This economic shift might even bring about deeper change. "If the oil price was still high, the regime wouldn't need taxes," says Laylaz. "If they don't need taxes, they don't need people's votes and can press down on society as much as they like." It's no coincidence that the worst period of Iran's most recent history, the 10 years in which it was run by former President Mahmoud Ahmadinejad, were years of record oil wealth.
There's another, surprising wrinkle.
Rouhani has called on companies that belong to the Revolutionary Guard and religious charities to be stripped of their tax-free status. That won't happen without a struggle, but it's one worth backing Rouhani to win. One study has found that Revolutionary Guard entities have holdings in listed companies worth just over 20 percent of the Tehran Stock Exchange. Other estimates of the Guard's share of the economy rise to 40 percent. The Supreme Leader has also been linked to an economic empire worth an estimated $95 billion.
Taxing this web of protected companies and creating a competitive industrial economy would be huge victories for Rouhani. And having to pay a tax would impose lasting costs on the Guard that would dwarf any share of unfrozen assets it may be able to commandeer.
To contact the author of this story:
Marc Champion at mchampion7@bloomberg.net
To contact the editor responsible for this story:
Therese Raphael at traphael4@bloomberg.net
Before it's here, it's on the Bloomberg Terminal.
LEARN MORE