Editorial Board
Europe Should Stand With Merkel
A setback for German centrism is a setback for the European Union.
by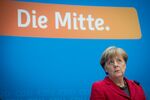 Sunday's regional elections in Germany were, in effect, a referendum on the country's refugee policy and the leadership of Chancellor Angela Merkel. Voters expressed disenchantment with both. The right-wing populist Alternative for Germany (AfD) party did well in all three of the states that voted.
This is bad news not just for Germany but for the rest of Europe, too. If Europe's other governments think living with Merkel is difficult, they would find living without her far worse. When EU leaders meet later this week, they need to lend her their support and accept that the blame for this setback to centrist politics is partly theirs.
The three-year-old AfD had its strongest election yet, with double-digit support in all three regions. In Saxony-Anhalt, where the unemployment rate is more than 10 percent, it took second place with 24 percent of the vote. Founded in opposition to the euro system and bailouts of its distressed economies, the party has been the fiercest critic of the Merkel administration's policy of "humanity and solidarity" toward refugees fleeing the war in Syria. Its views are extreme: Its leader has said border guards should, "if necessary," fire on people attempting to cross the border illegally.
Granted, Merkel's management of the situation has been far from flawless. Germany took in more than a million refugees in 2015, and the chancellor underestimated the impact of so rapid an influx. The appalling sexual assaults in Cologne and elsewhere on New Year's Eve stirred outrage and gave the impression of a government that had lost control. Measures to strengthen the EU's external borders -- essential if the flow of refugees is to be managed -- have fallen short, making the AfD's complaints on that score all too plausible.
But the failure is by no means Merkel's alone. Europe's other governments have blocked a coherent EU response to the refugee crisis. They were only too happy to let Germany shoulder the burden of aiding the refugees by itself.
This was short-sighted, because Merkel's setback is a setback for them as well. The danger now is that weak centrist leaders all across Europe will face increasing pressure from resurgent nationalist and protectionist movements championed by parties such as the AfD and France's National Front. If this happens, the prospects for European cooperation on refugees, and everything else, are bleak.
Europe should stand with Merkel in honoring the right to asylum and offering help to those fleeing the horrors of war -- a posture that demands commitment and resources from the EU as a whole. This should include more support for Turkey, which EU leaders will discuss when they meet, as well as a fair distribution of refugees among the EU's member states and effective joint measures to control external borders.
The policies Merkel has championed -- from sanctions against Russia for its aggression in Ukraine, to a principled approach to the refugee crisis -- have for the most part served Europe's interests. She stands for a centrist politics that strives to be both pragmatic and decent. That kind of politics needs to prevail, and not just in Germany. Europe's other centrist governments ought to recognize that a defeat for Merkel is a defeat for them, too.
--Editors: Therese Raphael, Clive Crook
To contact the senior editor responsible for Bloomberg View's editorials: David Shipley at davidshipley@bloomberg.net .
Before it's here, it's on the Bloomberg Terminal.
LEARN MORE