view
Divisive Campaign Is Deja Vu for Florida's Russian Emigres
A diaspora that is disillusioned with politics.
by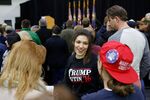 In Sunny Isles Beach, Florida, a major hotel and five huge residential towers bear the name of Donald Trump. Many of the condos, which can sell for $1 million or more, belong to Russians: Sunny, as this suburb of Miami is called by its Russian-speaking residents, also is known as Little Moscow. But the buildings aren't the reason much of the Russian community backs Trump in the Republican presidential primary.
QuickTake How the U.S. Elects Its Presidents
The Russian diaspora in Florida is significant. Census data are unreliable because the community is secretive and wary of outsiders. And many of the Russians don't acquire legal status in the U.S. even if they live here. Unofficial estimates put this population at 200,000 to 400,000. It is possible to live in towns such as Sunny Isles Beach and nearby Hallandale Beach for years without speaking English, says Andrey Borisevich, who moved to Sunny from Moscow a year ago, after buying a flying school in Fort Lauderdale.
"I found all the help I needed when I moved here within the Russian disapora," he says. "A Russian lawyer handled the acquisition, a Russian accountant does our taxes, there are Russian hairdressers, Russian real estate agents, Russian restaurants and grocery stores."
At Borisevich's SkyEagle Aviation Academy, the fridge is full of food imported from Ukraine and Russia. As we talk, he's drinking Russian-made birch sap, a drink few in the U.S. would enjoy.
The large community of those who have taken U.S. citizenship could have a significant political role, especially in Sunny Isles Beach and Hallandale Beach, but it doesn't: There are barely any Russian-speaking elected officials, even at the lowest level.
"There have been a few active people here," says Alexander Rosin, who has edited the Russian-language magazine "Florida" for 15 years. The only one he can recall is Isaac Feldman, who ran for the Sunny Isles Beach City Commission in 2010, lost and was about to run again when he was arrested and jailed for money laundering and other offenses, including the use of "Bar Girls" to swindle wealthy men. 
One explanation is that the Russian-speaking community -- unlike, say, Cubans, who are united by their opposition to Fidel Castro -- is too disparate to be useful as a political base. The older Russian-speaking residents are Jews who fled the Soviet Union. Once communism collapsed, other waves came: Wealthy retirees from the north of the U.S., pop stars, mobsters and corrupt officials who first bought holiday homes and then settled here. More recently, it was people fleeing the chaos in Ukraine and Vladimir Putin's business-unfriendly policies in Russia. They share little beyond a language and a weakness for Russian food.
Nonetheless, they all are scarred by their Soviet and post-Soviet past, but in different ways.
Borisevich decided to leave Russia after it annexed Crimea, feeling that the country was sliding toward Soviet-style totalitarianism. In the U.S., he is apolitical. "All we care about in Sunny is that there should always be pickled cucumbers at the Kalinka store," he says.
There are many like him: They left behind countries that are being ruined by divisive politics, and they want no part of it here, concentrating instead on making a life in a strange place. But there also are many others who take an active role and whose "views on Russian politics translate into views on American politics," says Aliona Ortega, a native of west Siberia who co-owns an art gallery in Miami's fashionable Wynwood neighborhood.
Ortega, married to a Cuban-American, is a staunch opponent of Putin and a supporter of Senator Bernie Sanders. She believes that the two positions are fully compatible. She says that she took exception when Garry Kasparov, the Russian chess champion and opposition activist, denounced Sanders as a proponent of the kind of socialism that arrested Russia's development in the Soviet era. "He should know the difference between that socialism and democratic socialism," she says. "The U.S. is so rich that it can afford to be more like European countries, spending less money on guns and war and more on things that benefit people, like health care and education."
Ortega has benefited from Obamacare. She is a small business owner and previously had difficulty finding an affordable health plan. Her husband had no health insurance because of a pre-existing condition. Now they are both covered.
"Sanders supporters are written off as freeloaders, but I started a business from scratch and my family is living the American dream," Ortega says. "We want nothing for free, we just want this country to change for the better."
Ortega's circle of Russian friends in the Miami area is Democratic-leaning. Many of the new, anti-Putin arrivals also support the two Democrats in the race, because they see their views as an extension of the liberal future they wanted for Russia.
Yet at its core, the Russian-speaking community is conservative. "Most of my readers that I talk to support Trump or Ted Cruz," says Rosin, whose magazine's circulation fluctuates between 3,500 to 6,000 copies depending on the season. "They've had their fill of 'socialism with a human face.'" 
The Jews among the post-Soviet diaspora also appreciate the Republican candidates' staunch support of Israel. "President Obama is among those thanks to whom Israel's situation became more precarious," says Rosin, who usually votes Republican but hasn't yet decided on a specific candidate.
Much of the community watches Russian television. "For some of the older ones, it's the only window on the world," Rosin says. "They'll vote on what Russia's Channel One tells them. They have an aggressive attitude toward America. It's hard for me to understand why they even live here."
Many of the Channel One watchers may vote for Trump: He is a darling of the Kremlin propaganda machine. Putin, to whom the U.S. is geopolitical enemy No. 1, has praised the developer and clearly enjoys the disruption he has created in the U.S. political process.
It would be simplistic to say that anti-Putin Russians support the U.S. Democrats, pro-Putin ones back Trump and older, anti-Communist and pro-Israel emigres are choosing among several Republican candidates with equally hard-line positions. Many of the so-called Russians in Florida aren't really from Russia: There are many Ukrainians, and recently, there has been a hard-to-explain influx of ethnic Russians from Central Asia. Yet how the Russian speakers vote is most often defined by the conclusions they draw from their home-country experience, whether of Communism or post-Soviet authoritarianism. 
"There's so much mistrust, anger, intolerance," Ortega says. "People over there need a shell to survive the hostility."
Florida's Russian community lives in that shell: Its members are harder to talk to about politics than their American neighbors because they are constantly on their guard, expecting nothing but trouble from any questions. Those who open up remain distrustful of politics and politicians: They know some of their neighbors -- including dozens in those Trump buildings -- finance their lavish lifestyles with proceeds from official corruption.
However it turns out, this divisive presidential campaign may leave its mark by making U.S. voters more like these cautious, cynical, disaffected Russians. 
To contact the author of this story:
Leonid Bershidsky at lbershidsky@bloomberg.net
To contact the editor responsible for this story:
Max Berley at mberley@bloomberg.net
Before it's here, it's on the Bloomberg Terminal.
LEARN MORE