Middle East
Israeli Arabs Caught in New Cycle of Distrust
Lawmakers don't help their cause by showing tolerance for terrorism.
by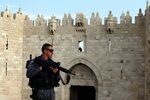 Israelis, unsurprisingly, are largely united on the need for their country to be a distinctly Jewish state, a report released this week by Pew Research Center found. They disagree strongly, however, as to how to preserve that Jewishness. Almost half of the survey's Jewish respondents said that the state should rid itself of the Arab population by expelling or transferring them out of Israel.
Although it has long been recognized that tensions between Israeli Jews and Israeli Arabs are on the rise, the 48 percent figure is astonishingly high. In a season in which many Jews -- both American and Israeli -- are looking with dismay at the xenophobia in American politics, the Pew data suggested that the U.S. is not the only society wrestling with such challenges.
The challenges for Israel are both political and physical. On the same day the Pew report was released, U.S. Vice President Joe Biden arrived for a two-day visit, and at least three cities were hit by a round of terrorist attacks, part of a cycle of violence that began in October.
The majority of the violence has been carried out by Palestinians, but there have been a few instances of Israeli Arabs killing Jewish Israelis. Ayman Odeh, the head of the Israeli Arab List in the Knesset, has not helped to ease the tension; on more than one occasion, he has said that it was not his place to tell Palestinians how to resist Israel, thus essentially giving his imprimatur to the stabbings and shootings.
Then, a month ago, several Arab lawmakers went to visit the families of terrorists from Jerusalem who had been killed by Israeli security forces while trying to attack Jews. The lawmakers joined in the observance of a moment of silence in memory of the dead attackers. Even for Israelis willing to grant the Israeli Arabs in the Knesset much latitude in expressing their loyalty to Arab causes, the public mourning seemed to go too far. In response, Prime Minister Benjamin Netanyahu urged passage of a bill that would allow the suspension of lawmakers for "unseemly behavior."
Yet even some Israelis who found the visit repulsive thought that Netanyahu was risking Israel's democracy by proposing the bill. The Arab members of the Knesset, they argued, have a right to be revolting, but Israel has no right to limit their freedom of expression. Israeli President Reuven Rivlin spoke out against the bill, and the legal adviser to the Knesset's Constitution, Law and Justice Committee said that the bill was so problematic that it would face legal hurdles. As it eventually became clear that the bill didn't have support even in Netanyahu's coalition, it lost steam. Its future is very uncertain.
The Israeli Arab lawmakers, however, are not done courting controversy, this week denouncing a decision by the Gulf States (Saudi Arabia, the United Arab Emirates, Kuwait, Qatar, Bahrain and Oman) to designate Hezbollah a terrorist organization. While those Arab nations were prepared to point to Hezbollah's terrorism, Israeli Arabs reacted angrily to the designation, which they said served Israel's interests. Jewish Israelis who pride themselves on the fact that Israeli Arabs serve as members of Knesset, Supreme Court justices and the like were shocked and outraged by the pronouncement. Netanyahu now asked whether these Arab legislators if they had lost their minds. The week's events had many of the telltale signs of a fraying social fabric.
Given the history of the region, this most recent round of distrust and recrimination should sadly come as no surprise. After all, in many cases, families find themselves divided into those who are now Israeli Arabs and those who are "Palestinians." Who is who is a function of who fled which village in 1948, and who either decided to stay or was unable to flee. The difference between Israeli Arabs and Palestinians was a line on a map, not ideology. It was that precise worry that led Israel to institute a military administration over Israel's Arabs, which it discontinued only in 1966.
It would have taken a herculean effort by both Israeli Jews and Arabs to overcome three-quarters of a century of suspicion and hostility. This week's proclamation by Israel's Arabs essentially endorsing Hezbollah and the Pew Report's data on Israeli Jews' attitudes their Arab fellow citizens are painful reminders that neither side ever made that effort.
This column does not necessarily reflect the opinion of the editorial board or Bloomberg LP and its owners.