Cars
Hey, VW! I've Got Some Ideas For That Car You Sold Me
Friendly advice for CEO Matthias Mueller, from an owner who wants to help. Really.
by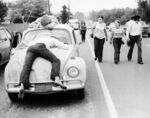 Last month, a U.S. District Court judge ordered Volkswagen to come up with a plan by March 24 for fixing the roughly 600,000 diesel vehicles it sold in the U.S. with rigged emissions-testing software. As one of the not-so-proud VW diesel owners waiting to see what happens, I'm taking the liberty of offering Volkswagen CEO Matthias Mueller a little free advice.
Dear Matthias:
First of all, a belated danke schon for that $500 gift card, which came in handy around the holidays. (I bought three respirators as stocking stuffers -- joke!) I haven't gotten around to spending that other $500 card at my authorized Volkswagen dealer, mostly because I can't yet face the inevitable mark-ups and up-selling when I bring in my car. And anyway, we all know that little gift is more for them than for me. I get it. We all need to eat, and it's not like Volkswagen is moving a lot of cars off the lot these days.
But I'm glum, chum. Here we are less than three weeks away from the deadline set by U.S. District Judge Charles Breyer for you guys to come up with a plan for fixing all those bum diesels, and it's All Quiet on the Western Front out there. You never write, you never call -- not even an e-mail hinting at what's in store for my metallic blue 2013 Passat TDI SEL.
The fact is, I love my age-appropriate bougie-mobile. The torque off the line. The 47 miles per gallon. The roomy back seats and big trunk. And when you guys told me it was a clean diesel, I fell for it -- hook, line, and turbocharged direct injection.
But now I just feel like a sap. I see the dirty diesel looks I get in the Whole Foods parking lot. The pity. The contempt. Once I lorded my "thunk" over those tinny Priuses. Now I hide from them. Which is kind of hard, because we have one of them in our driveway, too.
And my diesel is not only dirty, it's deadly. As you know, the folks at Massachusetts Institute of Technology pointed out last fall that the excess emissions unleashed by your defeat devices will lead to more than 50 premature deaths, and more than 30 additional cases of chronic bronchitis and hospital admissions, not to mention about 120,000 minor restricted activity days, 210,000 lower respiratory symptom days, and 33,000 additional bronchodilator usage days. The study estimated that from 2008 to 2015, the monetized premature mortality costs of these excess emissions were about $450 million.
We can quibble about the study's specifics, but aren't any premature deaths caused by "excess emissions" too many? Even a more conservative mortality estimate won't change the facts: Volkswagen engaged in false advertising, and its engineers set out to deceive both consumers and regulators.
But let's look at the future, not the past. As the study also points out, if Volkswagen fixes all its U.S. diesels by the end of this year, it could save 130 lives.
So what's the plan? I know you're still arguing with the Environmental Protection Agency and the Department of Justice, and I don't want to get in the middle of that fun. Let me just suggest what might restore the Farhvergnugen to at least one of your aggrieved U.S. diesel owners.
First, total transparency on the results of your internal investigation into how this happened, and its timely release. (FYI, my brother Alex Gibney, the angry, Oscar-winning owner of a Jetta TDI Sportwagen, tells me he has no current plans to do a VW exposé, but he's always open to new projects.)
Second, some far-reaching environmental remediation for the cumulative damage from the excess emissions. If I were you, I'd err on the side of, um, overkill in this department.
Third, you need to come up with some compelling incentive to owners of these cars to get them fixed or replaced. Whatever is done to these diesels will probably diminish both their performance and/or fuel economy. Even a green altruist -- and I'm not necessarily one -- could be forgiven for balking at ending up with a lesser vehicle.
I can think of plenty of self-serving ideas here. How about offering me full Blue Book value toward a trade-in; throw in another $2,800 (the MIT study's total mortality cost per vehicle if there's no recall) if I opt for one of your hybrids or plug-ins. Think big, Matt!
You've got a tall hill to climb. (My wife may never let me buy another VW. And her family owned four, including two campervans.) But Volkswagen has been there before. After all, the company successfully rehabilitated the "Strength through Joy" everyman's car incubated by Hitler's National Socialist regime into what Der Spiegel in the 1950s called "the German miracle's favorite child," and the car of choice for hippies of all stripes and nationalities thereafter. If that wasn't the world's most successful brand makeover, I don't know what was. Maybe what you need to win back American hearts and minds (and lungs) is an all-electric Bug!
But your call. I'm just a hapless consumer waiting for redress. As one of the New Beetle's ad campaigns put it, "If you sold your soul … here's your chance to buy it back."
This column does not necessarily reflect the opinion of the editorial board or Bloomberg LP and its owners.