view
Five Things About Trump's Very Good Night
With four Republicans hanging on, winnowing hasn't worked yet.
by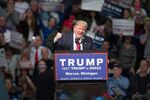 Five points on Tuesday's early Republican results, in which Donald Trump won easily in Mississippi and Michigan.
QuickTake How the U.S. Elects Its Presidents
1. They are still counting votes, but it appears that Donald Trump had a very solid showing on Tuesday no matter what happens later in Idaho and Hawaii. The best news for the reality television star? No rival is coming anywhere close to mounting a serious challenge. Trump hasn't captured 50 percent of the vote in any state but he came close in Mississippi. And though he'll finish below his polling in Michigan, he's currently at a healthy 37 percent of the vote there. That's an important number because, if he can match it going forward, it's probably enough to win against two candidates, and certainly enough to win against three. Until now he's received about 34 percent of the vote overall, too little to ensure dominance over a shrinking field. If he can get close to 40, it significantly improves his chances to wrap up the nomination.
2. I've been tweeting #WinnowingWorks every time a Republican candidate drops out. Losers usually withdraw, and eventually only one contender remains. All of that was working just fine this year until Governor John Kasich just refused to drop out. Tonight the exit polls and newly released national polls indicated that Trump would lose to any remaining candidate in a head-to-head matchup. We may get a chance to test that proposition after primaries next week -- assuming Kasich and Senator Marco Rubio drop out if they lose their home states of Ohio and Florida. To this point, though, winnowing isn't working.
3. One thing pundits tend not to appreciate is how little voters know about the candidates. For those of us who pay close attention, the campaign has been going on forever. For many voters, however, all they are getting is one- to two-week campaigns to learn about them. That is probably why Rubio, who is having another terrible night, was so vulnerable to being hurt when he began attacking Trump two weeks ago – for many voters in Michigan, that Rubio is the only one they know. It's also why I'm not prepared to write off Rubio at this point. Sure, it wouldn't be surprising if he dropped out tomorrow or, more likely, if he loses in Florida next Tuesday. But if Kasich can suddenly surge, who is to say that Rubio couldn't rebound?
4. What about Ted Cruz? After breaking out ahead of Rubio over the last week, the Texas senator failed tonight to gain ground on Trump. Trump continues to dominate Cruz in what were thought to be the Texan's strongest states in the South, and now Cruz failed to demonstrate that he could appeal to voters in a big Midwestern industrial state. If Kasich or Rubio do manage to stay in, Cruz may run up against a wall.
5. Tonight's solid showings for Trump will slow down premature talk of a contested convention in Cleveland starting July 18. The truth is that if Trump continues doing what he's been doing, he'll clear the 1,237 delegates needed. If he winds up one-on-one against Cruz (or, less likely, one of the other two) and loses out, then someone else could get to 1,237. The chances of a deadlocked convention are better than they've been in years, but that doesn't make one likely.
To contact the author of this story:
Jonathan Bernstein at jbernstein62@bloomberg.net
To contact the editor responsible for this story:
Jonathan Landman at jlandman4@bloomberg.net
Before it's here, it's on the Bloomberg Terminal.
LEARN MORE