Editorial Board
Draghi Doesn't Have What Europe Needs
It's time for Europe's governments to do their part.
by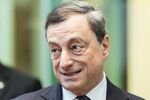 Mario Draghi's job isn't getting any easier. The president of the European Central Bank has led investors to expect something big after Thursday's policy meeting -- but his ability to do anything substantial is limited, and his choices are far from appealing.
So the best option for Draghi this week may be simply to deliver a message to Europe's governments. More to the point, he needs to send a warning: Monetary stimulus is nearing the end of its usefulness. Fiscal policy must play a larger part.
The need for additional stimulus shouldn't be controversial. Much of the euro area is stuck in a prolonged recession, and the threat of deflation isn't subsiding. This week, the central bank will probably announce downward revisions to its forecasts for both growth and inflation.
The question is, what kind of stimulus? Monetary policy has already been aggressively deployed. Europe has a huge bond-buying program, and the ECB has cut its interest rate on deposits to less than zero. Expanding these kinds of unconventional programs even further is far from ideal.
Market analysts are expecting the ECB to announce more quantitative easing (an additional 10 billion euros a month, say, while extending the policy to the middle of next year or beyond) and another cut in the central bank's deposit rate (of 10 basis points or more). How much real stimulus either step would deliver is debatable -- and each has to be measured against the risk of further distorting asset prices and destabilizing a still-fragile banking system.
The risk to banks from pushing the ECB's deposit rate further below zero has become apparent. European bank stocks have been hammered lately. One reason is the banks' reluctance to pass the negative rate on to their own depositors, who might revolt; the banks' profits get squeezed as a result. To get around this problem, the ECB might follow the Bank of Japan's lead and adopt tiered rates to confine the impact -- but this makes the negative interest-rate approach less effective as stimulus.
Attention needs to shift to fiscal policy. Draghi can't direct Europe's governments to act, and it would be rash of him to flatly say monetary stimulus has done all it can. But his hitherto-gentle hints that governments need to develop an adequate fiscal response can and should be dialed up.
A useful fiscal initiative needn't involve outright fiscal union -- an enormous undertaking that would take years. But it should be possible to recast the existing European Stability Mechanism so that it could act as a rudimentary fiscal stabilizer. Various proposals for this have been put forward. The crucial elements are an ability to issue bonds that are jointly guaranteed, and a mechanism for disbursing the proceeds in a way that cushions the budgets of countries under severe cyclical stress.  
Draghi once saved the EU from an even worse slump by promising to do "whatever it takes." This time, saving Europe will take more than the ECB.
--Editors: Clive Crook, Michael Newman.
To contact the senior editor responsible for Bloomberg View's editorials: David Shipley at davidshipley@bloomberg.net.
Before it's here, it's on the Bloomberg Terminal.
LEARN MORE