At Least the EU and Turkey Are Talking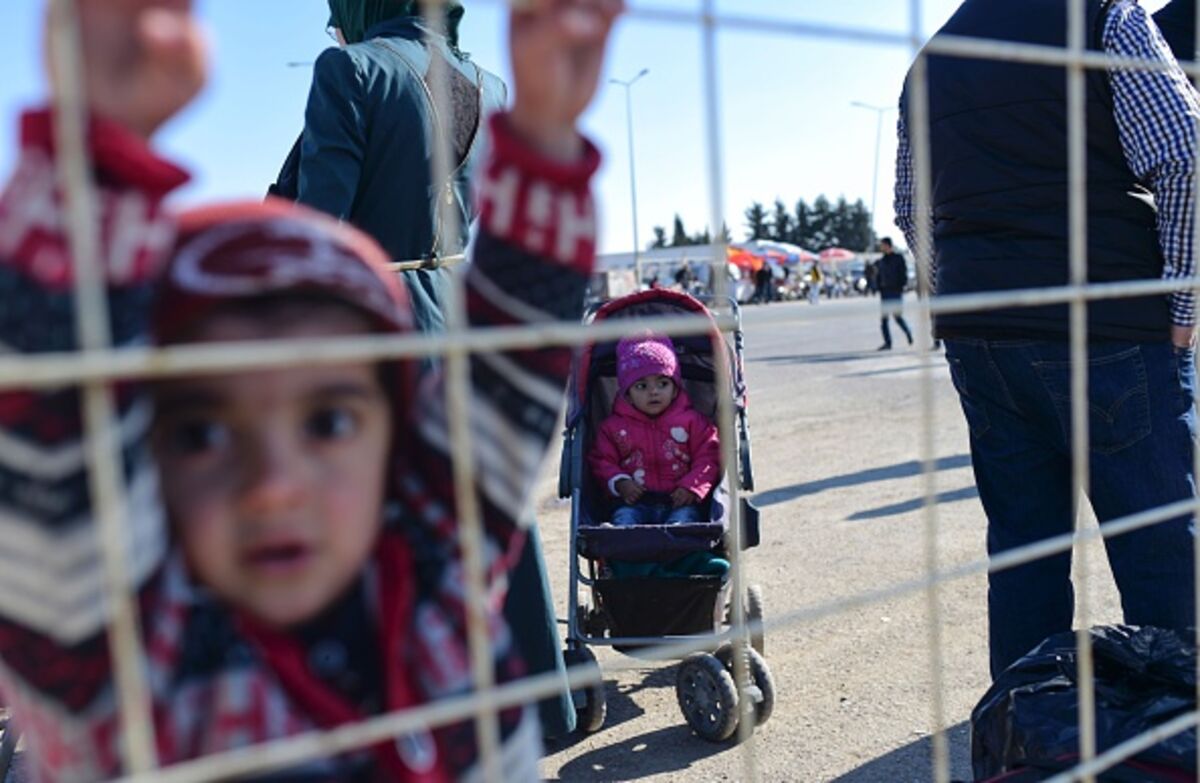 Photographer: BULENT KILIC/AFP/Getty Images
There are at least two crucial litmus tests for judging any plan to manage Europe's refugee crisis. First, does it deal with the refugees humanely? And second, does it share the costs of caring for them fairly?
On both counts, the draft plan on Syrian refugees between Turkey and the European Union amounts to an improvement on the status quo -- an admittedly low bar. Obstacles remain, but there's good chance for progress in two important areas: The deal could stop the smugglers now exploiting desperate refugees from war, and it could stem the flow of migrants to Greece, which cannot afford to accommodate them.
Under the proposal, Syrian refugees caught attempting to cross the Aegean Sea from Turkey to Greece would be sent back to Turkey. Turkey would agree to accept them all, but for each Syrian returned to Turkey, the EU would accept one Syrian refugee that Turkey has already screened. Those returned to Turkey would be moved to the back of the line for resettlement.
This is meant to discourage people from boarding boats for Greece -- one of the main ways the continent's 1 million refugees reached Europe last year. In exchange, Turkey has demanded that the EU increase its financial support to Turkey, speed up plans to let more Turks travel in Europe without visas, and restart stalled talks on Turkey's membership in the EU.
The deal is far from perfect and could still fall apart. Any final agreement would need to respect a person's right under international law to claim asylum. An arrangement that effectively substitutes access for migrants with access for Turks may be a nod to the reality of Turkey's superior bargaining position, but it's not the most sensible immigration policy. There are also legitimate questions about whether Turkey, where the climate for human rights and the rule of law has deteriorated, is a "safe country" for the purpose of returning migrants.
Even if these problems were somehow addressed, the EU would still need to resolve its own differences. Some members -- notably, Hungarian Prime Minister Viktor Orban -- have already threatened to veto any one-for-one refugee-return deal with Turkey. Eventually, the EU would need to reach agreement on how to resettle refugees from Turkey. It would also need to ensure both that the processing centers for refugees along its own borders are properly staffed and that the money it has pledged to Turkey to care for refugees is well-used.
In other words, the EU will need to move beyond the fence-building and finger-pointing that has marked its debate over Syrian migrants.
All of which suggests a third litmus test: Is the deal actually feasible? The EU certainly has incentive to make it work, as does Turkey. Both have legitimate concerns about security and terrorism. As they continue to negotiate, they should remember the rights and needs of those fleeing the war the terrorists are waging.
To contact the senior editor responsible for Bloomberg View's editorials: David Shipley at davidshipley@bloomberg.net.