view
A Surprising Test for Republicans in Iowa
Democrats think Charles Grassley is vulnerable after his blockade on a Supreme Court nominee.
by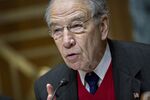 Besides the presidential contest, perhaps the most important election of 2016 will take place in Iowa, where incumbent Republican Senator Chuck Grassley is suddenly facing a solid Democratic challenger. 
Patty Judge, a former lieutenant governor and state agriculture secretary, announced last week she is entering the race against Grassley. It's an uphill battle. The 82-year-old Grassley is a much-loved institution in the state. After knocking off a Democratic incumbent in 1980, he has been re-elected with margins exceeding 30 percentage points.
So why are Democrats making more than their usual token effort to unseat him?
Judge says she is running for one reason: Grassley's immediate decision to join the Senate Republican blockade against any possible choice by Barack Obama to fill the Supreme Court vacancy created by Antonin Scalia's death. 1
Could one Senate race really change things? Yes, it could. Republicans throughout the Obama presidency have acted as if congressional obstruction, not compromise, is a cost-free strategy at least in terms of elections. In fact, they see compromise as the risky course because of successful primary challenges to incumbents from more conservative Republicans, such the defeat of Utah's Bob Bennett by Mike Lee in 2010.
If Grassley, the chairman of the Judiciary Committee, were to lose a seemingly safe election partly because of his intransigence on a Supreme Court nominee, the assumptions underlying that strategy would be shaken. It isn't that the threat to other senators would increase substantially. But if they wondered if extremist and obstructionist tactics could have general-election consequences, they might change their behavior. (Politicians are paranoid, so the real question is what they are paranoid about.) This lesson would apply to Democrats too. During the next Republican presidency, they might also remember the price of taking obstructionism too far.
I'm not saying partisan polarization is bad. It comes with democracy and can be good for it. But it is damaging to democracy when a political party shows no respect for the norms of U.S. political institutions and hostility to even the idea of compromise. That's what the Republicans have done. 2
With Patty Judge in the Iowa Senate race, the Cook Political Report has shifted the contest from "Safe" to "Likely Republican." So while not exactly a toss-up, it's at least a competitive contest. Judge may not even have to win to have some effect on future behavior in Congress. Politicians keep track of movement like this, and even a scare for Grassley would send the right message.
Of course, we don't know if that's her primary motivation. She also told reporters that the possibility of seeing Donald Trump head the Republican presidential ticket made it a good year to be on the ballot as a Democrat. 

The dysfunction isn't matched on the Democratic side. At least not so far. Keep an eye on the Democratic Senate primary in Florida, where U.S. Representative Alan Grayson -- who would push the Democrats in the direction of intransigence -- is trying to defeat a House colleague, the more moderate Patrick Murphy.   
To contact the author of this story:
Jonathan Bernstein at jbernstein62@bloomberg.net
To contact the editor responsible for this story:
Katy Roberts at kroberts29@bloomberg.net
Before it's here, it's on the Bloomberg Terminal.
LEARN MORE