China
China's Rebalancing Is Overrated
The new economy still looks a lot like the old one.
by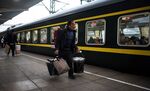 The optimists' case for China is fairly straightforward. Yes, the world's second-largest economy is grinding to its slowest pace in decades. But as investment and manufacturing -- traditionally the key drivers of Chinese growth -- decline in importance, domestic consumption and services are playing a bigger role: For the first time, services accounted for just over 50 percent of GDP last year.
This much-desired rebalancing should move China toward a far more sustainable growth model. New economy companies in technology, health-care, finance and retail are more productive and less polluting than smokestack industries. Robust consumption -- rail traffic is growing at 10 percent as Chinese spend more on leisure travel, while mobile Internet traffic has doubled -- is key to weaning the economy off its addiction to investment. As unproductive coal mines and steel factories shed workers, labor-intensive services should pick up the slack.
A closer look at the data, however, paints a different and decidedly gloomier picture. Take travel. While overall rail traffic is up, total passenger turnover, which accounts for the number of kilometers traveled, grew only 3.1 percent in 2015. Moreover, it's important to remember that only 11 percent of trips are done by rail. (International air travel, which grew 34 percent last year, only covers 0.2 percent of trips.) The vast majority of travel takes place by road and highway traffic actually declined last year. If so many more Chinese are going on pleasure trips, why is hotel revenue flat?
Similarly, sales at the 100 biggest retailers in China, which one would expect to be thriving if the economy were rebalancing, were down 0.1 percent in 2015. Luxury brands have been hit particularly hard (in part because of the ongoing anti-corruption campaign) and sales of even basic consumer durables such as TVs, refrigerators, audio equipment and washing machines are flat or declining.
Services are certainly growing faster than manufacturing and real estate. But much of that growth comes from two sectors. The first, financial services, got a major boost in 2015 from the stock-market boom in the first half of the year and from the continuing flood of lending encouraged by the government. If one strips out the contribution made by the sector, consumption continued to slow last year.
The bursting of the equity bubble is sure to crimp growth, as may a souring of loans, many of which are going to loss-making heavy industries. Indeed, by helping keep afloat those state-owned zombie companies in order to boost GDP, Chinese banks are further delaying the process of rebalancing.
The other sector that's done well is logistics and transportation -- mostly because of an explosion in e-commerce. Consumers are jumping at the lower prices and greater choices offered online; Alibaba, its competitors and downstream companies are expanding rapidly. Yet despite this new demand, the output and total sales of consumer goods are barely growing. That suggests online retailers are simply stealing market share rather than adding to the overall pie.
The government knows it needs to do more to promote true rebalancing. The official 2016 economic plan highlights the need to lower costs and taxes in order to stimulate spending. More also needs to be done to create a social-safety net, so Chinese don't have to squirrel away their savings for a rainy day. Red tape needs to be slashed so entrepreneurs can more easily launch new service businesses.
The challenges are daunting, however, and will require changes to financial flows, the labor market and business culture. Banks will have to be freed up to lend more to small and medium-sized companies, rather than the inefficient state-owned enterprises that have traditionally been their clients. Workers urgently need retraining: Many service-sector jobs, such as those in technology and finance, demand skills that laid-off coal miners simply don't have.
Above all, the state will have to learn to facilitate private entrepreneurship rather than plan the mass public projects that have historically driven growth. As many companies that have tried to become more innovative have learned, there's no way to mandate dynamism and creativity. Before China can truly transition to a new growth model, its government is going to have to get out of the way.
This column does not necessarily reflect the opinion of the editorial board or Bloomberg LP and its owners.
To contact the author of this story:
Christopher Balding at cbalding@phbs.pku.edu.cn
To contact the editor responsible for this story:
Nisid Hajari at nhajari@bloomberg.net
Before it's here, it's on the Bloomberg Terminal.
LEARN MORE