view
Chile Wins an Oscar for Tackling Its Past
In Hollywood it was a minor prize, but in Chile it was cause for major celebration.
by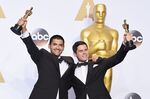 Filmmakers don't normally qualify as national heroes, but Gabriel Osorio and Patricio Escala might have been World Cup champions when they arrived home in Chile early this week having won an Oscar for "Bear Story."
In Hollywood it was a minor Academy Award -- best animated short film -- but it was the first for a film from Chile. On Tuesday, President Michelle Bachelet welcomed Osorio, the film's director; Escala, the producer; and writer Daniel Castro at the presidential palace and posed with an Oscar statuette in hand.
"Hollywood is looking south," Osorio told El Pais prior to the Academy Awards, referring to the nominations for both "Bear Story" and a Brazilian animated film.
Hmm. More realistically, "Bear Story" is evidence that Latin Americans are looking to themselves, turning to art to make peace with their ghosts. Some of the region's best novelists have done this masterfully, spinning fiction from dark times when dictators and demagogues dominated. Filmmakers also are consolidating their role as important cultural interpreters. "Books are losing space to television, film and the web," said Ilan Stavans, a scholar of Latin American culture at Amherst College. "Moving pictures are taking over the role of literature."
A new generation of cineastes is artfully telling Latin America's stories. A number of titles have explored tensions and conflicts from the days of dictatorship, with nuanced pictures such as Argentina's "The Secret in Their Eyes" (which won the 2010 Academy Award for best foreign-language film) -- a whodunit set against the backdrop of Argentine dictatorship and its aftermath -- and "No," Pablo Larrain's 2012 Oscar-nominated film about the advertising team that helped take down Chile's dictatorship. "Bear Story" carries on the tradition, and it's a gem.
The beguiling 10-minute animated film, with no dialogue and a spare soundtrack, is not a children's tale. The narrative centers on a solitary bear who spends his days, as if in exile, on a street corner, playing a story about his fractured family through the peephole of a mechanical diorama, a contraption with gears, belts and pop-up figurines.
The effect is as magical as it is heart-rending. The film was inspired by Osorio's grandfather, Leopoldo Osorio, a former socialist party militant who was jailed after the Chilean coup d'etat in 1973 and then lived in exile in England. More broadly, the story is an allegory for the scores of Chileans whose families were sundered under Augusto Pinochet's dictatorship -- which lasted almost 17 years, tortured tens of thousands, and claimed more than 3,000 lives, and whose survivors still seek answers.
In the narrative played out on the protagonist's machine, animals are persecuted by automaton-like forces wielding nightsticks and dressed in long red coats. Papa Bear is beaten and hauled off to the circus, where he's forced to perform. He finally escapes and rejoins his family, a fantasy that leavens the tale within the tale.
What drives a contemporary filmmaker raised on democracy to explore such recent authoritarian past, especially with victims and perpetrators of the dark moment still alive? Frustration, perhaps: "Much of what's going on are young Latin Americans trying to make sense of the world of their parents and grandparents," said Jeremy Adelman, a historian at Princeton University. "And since there's no reconciliation you keep recycling the past."
In some ways the past was simpler. "We dreamed of democracy for so long and now that it's here, it looks messy and incomplete, and that brings disillusionment," said Stavans. "Back then, there were good guys and bad guys, and the lines seemed more clearly drawn."
Indeed, Osorio succeeds in evoking an era whose passions and brutalities are too distant for younger Chileans to remember and too recent for their parents and grandparents to have overcome. Using contemporary filmmaking tools, Osorio and his team created a sort of retro world that is quaint but at the same time compelling and wondrous. Despite the film's political overtones and warning about the abuses of rogue authority, Osorio also makes a more universal appeal: "I sincerely hope that Bear Story reminds the audience of their loved ones and their significance in their lives," he wrote in a director's statement.
If nothing else, excitement about the Oscar win certainly seemed widespread in Chile -- even ultraconservatives who supported Pinochet tweeted in celebration. But that's an irony for another film.
To contact the author of this story:
Mac Margolis at mmargolis14@bloomberg.net
To contact the editor responsible for this story:
Zara Kessler at zkessler@bloomberg.net
Before it's here, it's on the Bloomberg Terminal.
LEARN MORE