view
What Two Political Writers Will Watch on Super Tuesday
Francis Wilkinson and Ramesh Ponnuru chat about the rise of Trump, the fall of Sanders, and what the heck Rubio is going to do next.
by and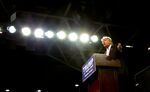 Republicans will vote in 11 states, and if Donald Trump sweeps most or all, the party's delegate math makes him hard to beat. The Clinton campaign, assuming the nominations are all but decided, is preparing to battle Trump in the general election. Two Bloomberg View columnists, Francis Wilkinson and Ramesh Ponnuru, talk about what they'll be watching for on Super Tuesday. They will chat again later to assess the outcome.
Francis Wilkinson: Hi, Ramesh. Very happy to join you as we begin our perilous steps into the Age of Trump. How do you think this momentous day turns out?
Ramesh Ponnuru: It's a big day for Donald Trump. The only question is whether he wins everywhere, or one or two states elude his grasp. Any other result will be extremely surprising, don't you think?
Francis Wilkinson: It looks like he has been working his way up the income scale of GOP voters. Recent polls show him doing very well with more upscale voters. And he won a plurality of self-identified evangelical/born again voters in South Carolina. He has the potential for a rout today. And while that will not be surprising, it will still be shocking.
Ramesh Ponnuru: I'm glad you mention the breadth of Trump's support. Punditry about Trump has kept dwelling on his appeal to voters with low incomes and without college degrees, and then using that appeal as a starting-off point to make broader arguments about how other Republicans should try (or should have tried) to reach these voters. But the truth is that while Trump is doing better with such voters, his appeal is plainly broader than that.
Francis Wilkinson: Yes, it's broad but more important, it appears to be getting broader still. What do you think happens if he runs the table today? Will GOP elites begin to throw in the towel and capitulate? How many states can Rubio lose before his backers give up?
Ramesh Ponnuru: I think the more immediate challenge is to Cruz. If he loses Texas, it's definitely over. It may be over even if he wins Texas, because today was supposed to be the day his campaign cleaned up. What will help both Cruz and Rubio is that today's primaries are not winner take all. But Trump's delegate lead will likely widen, and Trump will gain more endorsements. But he's going to have far fewer than the typical Republican front-runner. And if he's on the ballot in November, I expect him to get a lower share of his party's vote than nominees typically do.
Francis Wilkinson: It's kind of remarkable that there is an expectation of Rubio staying in and competing even if he loses every state today. On the Democratic side, I think there is already a sense that the air is coming out of Bernie Sanders's tires after a crushing defeat in South Carolina. Clinton has stopped attacking him and expectations for his future are less than robust.
Ramesh Ponnuru: Sanders's likelihood of being the nominee, never great to begin with, has been sinking as it becomes clear that he is not getting the African-American votes he needs. But I suspect that he didn't get into the race thinking he was likely to be the nominee, and will remain an ideological-protest candidate with the potential to win some primaries.
Francis Wilkinson: Agreed. I've always thought he was as surprised as anyone by his success. I do wonder if his voters, especially young ones, will begin to fade as enthusiasm turns to resignation that he won't win. And I think Clinton could struggle to win them over. But I suspect Sanders will help her with that as best he can. She really does seem pretty comfortably in the driver's seat now.
Ramesh Ponnuru: Let's chat again tonight when we start to see just how super this Tuesday is for Mr. Trump.
To contact the authors of this story:
Francis Wilkinson at fwilkinson1@bloomberg.net
Ramesh Ponnuru at rponnuru@bloomberg.net
To contact the editor responsible for this story:
Philip Gray at philipgray@bloomberg.net
Before it's here, it's on the Bloomberg Terminal.
LEARN MORE