Labor
Places Where You Can Get a Job and Afford a House
Move to Minneapolis. What are you waiting for?
by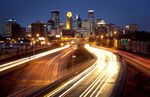 The U.S. is a nation divided -- divided between zip codes where economic times are good and zip codes where they really aren't.

This map was compiled by the Economic Innovation Group, a new Washington think tank with Silicon Valley backing. It's based on a variety of economic indicators, most for the years 2010 to 2014, and covers all zip codes with more than 500 people. You can also look at the data by county, city and Congressional district.

This Distressed Communities Index, the EIG wrote in a report released last week,
is intended to facilitate a better understanding of the pervasive pessimism many Americans feel about their own communities and personal economic prospects in spite of years of steady U.S. economic expansion.
News-media coverage of the report also emphasized the negative, which was entirely understandable and appropriate. Still, I'm a glass-half-full kind of guy, and when I looked at that map I couldn't help but focus on the green, the places that are prospering. And my eyes kept being drawn to the upper Midwest, especially the dark-green blob engulfing Minneapolis.

Here's how it looks closer up:

There are a few distressed zip codes in the central cities of Minneapolis and St. Paul, but apart from those, the area is awash in economic plenty. The Minneapolis-St. Paul area has added more than 200,000 new jobs since 2009, according to the Bureau of Labor Statistics. The area's unemployment rate in December was just 3.1 percent (not seasonally adjusted), compared with 4.8 percent nationwide.  The median household income is well above the national median.

And here's the really great part: Normal people can actually afford to buy houses there. According to the National Association of Realtors' Housing Affordability Index, a median-income family in the Minneapolis-St. Paul area had 217 percent of the income necessary to qualify for a conventional mortgage loan on a median-priced single-family home there in 2015. In metropolitan San Jose, California, the nation's least affordable real-estate market, that figure was just 64 percent.

I have written a lot lately about booming coastal cities and their impossibly expensive real estate. My argument has mainly been that we need to find ways to build more housing in those cities, zoning laws and not-in-my-backyard activists be danged.
Still, there are limits to how much more can be built in crowded coastal metropolises, while there are lots of metropolitan areas in the U.S. where real estate is cheap. In many of them, it's cheap because the local economy is in the dumps. But that's clearly not the case in the Minneapolis area. This made me wonder which other U.S. metropolitan areas are blessed with prospering economies and cheap housing.

The EIG data used in the map above isn't sorted by metropolitan area, so I used a Brookings Institution report from January on "growth, prosperity and inclusion" in the country's 100 biggest metro areas. I picked out the 23 areas that scored in the top half on all three measures from 2009 to 2014. From that list, I then eliminated the places that ranked in the bottom half of the 179 metropolitan areas on the National Association of Realtors' 2015 affordability index.

This whittled the list down to 11 places: Cincinnati; Columbus, Ohio; Detroit; Grand Rapids, Michigan; Louisville, Kentucky; Minneapolis; Oklahoma City; Omaha, Nebraska; Pittsburgh; Toledo, Ohio; and Tulsa, Oklahoma. (The NAR actually didn't publish 2015 affordability data for the Detroit or Pittsburgh areas, but I'm pretty sure both would have made the top half.)

I then applied one last screen: a Brookings ranking of the share of area residents with a college degree -- which gives some indication of the quality of jobs available and of the area's longer-run prospects; I threw out the places that ranked in the bottom half among the country's 100 biggest metro areas. This left five places:
Cincinnati
Columbus
Minneapolis
Omaha
Pittsburgh
None of these metropolitan areas is what you'd call a boomtown. Columbus is the fastest growing metro area of this group over the past half decade, according to the Brookings rankings, but it's only the 20th fastest growing nationwide. Minneapolis is in 29th place, while Omaha, Cincinnati and Pittsburgh are 44th, 45th and 48th, respectively.
They aren't withering away either, though. All have well-below-average unemployment rates, with Omaha's the lowest at 3.0 percent. These are places that presumably could grow faster if only more people moved there. What are you waiting for?
This column does not necessarily reflect the opinion of the editorial board or Bloomberg LP and its owners.