2016 Elections
Clinton Insider to Clinton Insiders: Calm Down
Terry McAuliffe thinks the Sanders challenge will fade by mid-March.
by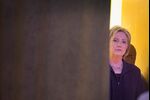 Terry McAuliffe, a Clinton-family confidante and the governor of Virginia, has a message to his nervous allies in the Hillary Clinton camp: Calm down; the time for panic over Bernie Sanders's surprisingly strong challenge has passed.
McAuliffe predicted that Clinton will sew up the Democratic nomination in a little over two weeks.
"By March 15th, there's a real likelihood that we will be able to announce that Senator Sanders statistically cannot win," McAuliffe said in an interview on the Charlie Rose PBS television program.
This is predicated on the former secretary of state winning a big victory in South Carolina on Saturday and then sweeping most of 11 contests on March 1, when about 22 percent of the delegates will be chosen.
That should be enough, McAuliffe said, to quiet the second-guessing that arose inside the Clinton campaign when she failed to pull away from Sanders in early contests. In Iowa, the candidates finished in a virtual tie. Then Sanders won easily in New Hampshire before making a strong challenge in Nevada. Referring to the contentious atmosphere, he said: "I've been in Clinton world a long time. This is not the easiest place to survive."
He defended the campaign leadership, which has been criticized by insiders, and said he considers the campaign to be well run. The campaign manager, Robby Mook, has put together a "very talented team with great mechanics," McAuliffe said. Mook ran McAuliffe's 2013 gubernatorial campaign.
McAuliffe said he is confident that Clinton's lead will be too big to overcome after mid-March, even though half the delegates will remain to be chosen after that point.
He predicted she would win the March 1 primary in his home state but stopped short of forecasting a decisive victory. That matters, as most delegates chosen that day are elected by proportional representation, based chiefly on the percentage of votes received.
McAuliffe also forecast that Donald Trump would become the Republican nominee, and that either Trump or Texas Senator Ted Cruz would have a "tough time" winning the general election or carrying Virginia.
Senator Marco Rubio of Florida would be stronger, McAuliffe said, and Governor John Kasich of Ohio "would be formidable in Virginia." 
The interview airs Friday night on PBS and Saturday on Bloomberg Television.
This column does not necessarily reflect the opinion of the editorial board or Bloomberg LP and its owners.
To contact the author of this story:
Albert R. Hunt at ahunt1@bloomberg.net
To contact the editor responsible for this story:
Jonathan Landman at jlandman4@bloomberg.net
Before it's here, it's on the Bloomberg Terminal.
LEARN MORE