Terrorism
Twitter's Kind of Winning Its War on Islamic State
Deleted users resurface, but a study shows jihadis struggle to regain their followers.
by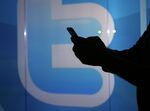 It's unlikely that the chief executives of Facebook and Twitter have ever considered their social-media competitor Telegram much of a threat. But that may have changed on Thursday, when a video was spotted on Telegram showing images of Mark Zuckerberg and Jack Dorsey riddled with bullet holes.
The 25-minute propaganda video -- found by "deep Web analysts" at the website Vocativ -- was apparently posted by Islamic State supporters angry at Facebook and Twitter for efforts to delete the accounts of fellow jihadis. "If you close one account we will take 10 in return," the video taunted, "and soon your names will be erased after we delete your sites, Allah willing, and will know that we say is true."

But how accurate is that boast? Not very, at least when it comes to Twitter, according to a new study by J.M. Berger and Heather Perez of George Washington University's Program on Extremism.
The two researchers looked at Twitter accounts supportive of Islamic State that were active from June to October of last year. It was compiled in part using a list of pro-jihadi tweeters maintained on Twitter by an Islamic State supporter who goes by Baqiya Shoutout. Berger and Perez found that the network of prominent English-language Islamic State supporters was actually quite small, between 1,000 and 3,000. Moreover, these accounts had, on average, relatively few followers -- 300 to 400 -- although some did have several thousand. (Some perspective: My Bloomberg View colleague Josh Rogin has about 80,000 followers.) 
Twitter says it has suspended more than 125,000 accounts of violent extremists since mid-2015, but these efforts have been somewhat sporadic: The researchers found that fewer than 2 percent of the accounts on the list were suspended on an average day. And over all, the size of the pro-Islamic State network of followers remained steady in the period under study.
The good news was that users who were repeatedly suspended "suffered devastating reductions in their follower counts."
It's relatively easy for a banned user to create a new account under a new name and e-mail address, but it's far harder to recover the deleted account's audience. (The Baqiya Shoutout list is regularly updated to help Islamic State confederates regroup, but it can't repair the damage.) For example, the chart below shows daily average number of followers for four of the most prominent, and repeatedly suspended, accounts in the study, using the sum of followers for the multiple accounts operated over a three-month period:

Another bonus of Twitter suspensions is that all the user's previous tweets are deleted, sending a huge body of Islamic State propaganda into the black hole of cyberspace. The report also found that the user network of people actually in Iraq and Syria had shrunk, "partly because of suspension activity, but also because of operational security concerns within ISIS and the deaths of some prominent Syria-based network participants."
Not everyone is convinced of the efficacy of account suspensions. "At best, the impact of Twitter's efforts like these will be negligible," Michael S. Smith II, a principal at the security consultancy Kronos, said to me in an e-mail. "Islamic State members and supporters have touted as credentials the number of times their accounts have been suspended. Since Twitter began cracking down more rigorously, all of the key IS propagandists and influencers on Twitter are still active. They're just establishing new accounts more frequently. And these accounts often generate followings into the thousands within a few hours."
Admittedly, the sample size of the new research is limited. A more exhaustive study last year by Berger and the data scientist Jonathon Morgan found that there were more than 20,000 serious Islamic State-supporter accounts in all languages. And Islamic State backers have recently been sharing countermeasures, such as switching to new services like Telegram.   
Nonetheless, it's promising to see some evidence that while the U.S.-led ground war against Islamic State moves ahead in fits and starts, there is other progress being made, 140 characters at a time.
This column does not necessarily reflect the opinion of the editorial board or Bloomberg LP and its owners.