Editorial Board
How to Keep Peace in the South China Sea
The U.S. response to China's military buildup should be steady and determined.
by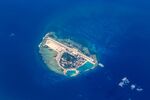 China's pursuit of its expansive claims in the South China Sea has been incremental, designed not to provoke too much international outrage. The U.S. response should be just as steady and determined.
Most recently, China appears to have stationed advanced surface-to-air missiles and possibly also fighter jets on Woody Island, in the Paracel chain. New images also suggest the Chinese are building a high-frequency radar array on Cuarteron Reef in the remote and more deeply contested Spratly Islands.
It's important to recognize a difference between these two actions. China stands on firmer ground, literally, in adding military hardware to the Paracels, islands it has administered since the 1950s (though Vietnam and Taiwan also lay claim to the area). Woody itself is a relatively large natural island -- not something reclaimed from the sea like the Spratly reefs. Indeed, Woody is already home to a 9,000-foot airstrip, radars and a small garrison, and China has temporarily deployed both anti-aircraft missiles and advanced fighters there before.
The HQ-9 missiles China appears to have stationed on the island are also limited tactically. They're useful against planes but not ships, and they have a range of only about 55 nautical miles. True, in wartime, the new batteries might help keep enemy aircraft away from the Chinese submarine base on Hainan, 200 miles away. But the U.S. can hardly expect China not to try to bolster its defensive capabilities where it can.
The radar going up on Cuarteron is another story. This reef is the southernmost of the features occupied by China in the South China Sea, 640 miles distant from Hainan, an area that Chinese President Xi Jinping has pledged not to militarize. Radar on the Spratlys could extend China's ability to monitor surface and air traffic deep into the South China Sea. Once fully operational, the array could greatly aid any Chinese effort to control the entire area.
This points to the larger problem with China's strategy: The steady accumulation of missiles, jets, radar and other assets is rapidly expanding its ability to dominate one of the world's most vital economic corridors. Yet China hasn't told the rest of the world much about its ultimate plans.
It merely points to a World War II-era map showing most of the South China Sea as Chinese territory -- and refuses to negotiate collectively with other countries that have claims in the area. China has dragged out talks with members of the Association of Southeast Asian Nations over establishing a code of conduct in the region.
That doesn't mean that the U.S. should seek to challenge China militarily, as some are suggesting. Nor should the U.S. feel compelled to invite the Japanese to take part in naval patrols, as doing so could reignite Sino-Japanese tensions in Northeast Asia and make it more difficult to gain China's help in dealing with North Korea's nuclear program.
Instead, the U.S. should reinforce the strategy it's been pursuing for the past few months: American naval ships and planes should continue to sail and fly "wherever international law allows," in Defense Secretary Ashton Carter's words. It would be worth conducting regular "freedom of navigation" exercises in the Spratlys, to underscore that China can't create a territorial sea simply by reclaiming land.
The U.S. can also help to unify countries in the region behind key principles: Territorial claims should be based on international law and resolved peacefully, and freedom of navigation throughout the South China Sea is a basic right. When a U.N. tribunal rules on the Philippines' claims in the Spratlys later this year, it will be important to rally international support for the verdict. And the U.S. can continue to help countries such as Vietnam and the Philippines to build up their own maritime capabilities.
Individually, these may seem like small moves. But no less than China's, they add up to a strong defense.