Law
Would Scalia Say This Was an Illegal Search?
Supreme Court hears a case that could turn out differently with only eight justices.
by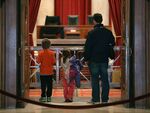 The death of Justice Antonin Scalia and the interbranch dispute about the nomination of his successor draw attention to the U.S. Supreme Court at its most grand and important. But Monday morning, the eight justices sit down for business as usual. One case, about Veterans Affairs Department set-aside contracts, will be decided on the interpretation of a statute. It's the kind of case that excited Scalia and that most of the other justices consider routine.