Editorial Board
Getting Europe and the U.S. to Yes
Reaching a deal on the Transatlantic Trade and Investment Partnership would be a boon for everyone.
by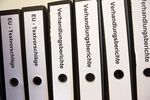 If the U.S. and Europe are to agree on a historic trade deal this year, while President Barack Obama is still in office and before France and Germany are caught up in 2017 elections, the talks that start Monday in Brussels need to be fruitful. That means they need to address one of the main points of contention: how investors and governments settle disputes.
The EU has put forth a plan to create a special court to settle investor disputes. Such a court is unworkable, both practically and politically: Its legality within the EU is questionable, and the chances that the U.S. Congress would allow the court to have authority over the U.S. are slim to none.
More important, a new court is not necessary, because a perfectly good model for settling disputes is laid out in the Trans-Pacific Partnership, the trade deal that was concluded last year. Among other changes, TPP enshrined more transparency and put the burden of proof on companies (which ought to satisfy European concerns that multinationals will use the procedures to challenge national policy).
Negotiators should waste no time settling this issue, so they can move on to other disputed areas, such as agricultural tariffs, food safety and regulatory standards.
A robust deal this year would be a significant achievement. Yes, the negotiations have seemed endless (this is round 12), and they've grown increasingly contentious. But the potential benefits for both sides are too great to let this opportunity pass.
The trans-Atlantic economy accounts for about half of global gross domestic product. Europe and America are each other's primary source of, and destination for, foreign direct investment. The pact at issue, the Trans-Atlantic Trade and Investment Partnership, would create the world's largest free-trade zone and result in several million export-dependent new jobs. The plan to reduce tariff and non-tariff trade barriers is estimated to boost their respective GDPs by about half a percentage point.
The longer the talks drag out, the greater are the chances they will be derailed. Protectionist critics in Europe, unnerved by an immigration crisis, slow growth and stagnating productivity, are becoming increasingly vocal. And while the EU has done a poor job of selling the benefits of an agreement, populist parties have engaged in effective scaremongering.
At a time when insecurity, economic and otherwise, threatens international cooperation generally, a stronger trans-Atlantic economy can reinforce Western values, bolster strategic interests and serve as an example for other parts of the world.