2016 Elections
Races Shape Up Around Clinton and Rubio
Trump might have won South Carolina's primary, but it doesn't mean the party wants him.
by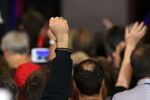 After the third major voting event for both parties, one nominee looks clear -- Hillary Clinton -- while Marco Rubio, having recovered from his New Hampshire disaster, is once again well positioned to capture the Republican nod, although he has a lot further to go.
By defeating Bernie Sanders by about 5 percentage points in the Nevada caucuses, Clinton continued to do what she's done so far: win enough votes to keep her nomination utterly safe, even without winning in the kind of landslide that would knock Sanders out or make it impossible for pundits to imagine a Sanders win.
Iowa was a fairly good state for Sanders, and New Hampshire probably his second-best, other than Vermont. Nevada should have leaned Clinton, and it went Clinton. Now she gets to the strong part of her schedule: next Saturday in South Carolina, which she is expected to win by so much that Sanders didn't bother mentioning it in his post-Nevada speech Saturday, followed by several Southern states with lots of black voters on March 1. Unless she makes a huge misstep, she's going to emerge from those states with a large lead both in pledged delegates and superdelegates.
It's unlikely Sanders will make much of a dent in that lead at any point.
Meanwhile, Donald Trump put up his second win in South Carolina. Iowa was a tough state for him and he still received 24 percent of the vote. New Hampshire should have been good for him, and he improved to 35 percent -- enough, if he could repeat it everywhere, to be competitive in a three-candidate contest. Now, in South Carolina -- which seemed neither particularly good or bad for Trump going in -- he wound up with 33 percent of the vote (with a few votes remaining to be counted as of late Saturday).
That was enough for an easy win against five other candidates, but one of those -- Jeb Bush -- dropped out as soon as the results came in. In his victory speech, Trump ridiculed the pundits who added up the non-Trump votes and predicted he will be in trouble once the field consolidates.
So far, however, that's exactly what is happening: Polls in which few voters consider him their second choice also predict he won't benefit when other candidates leave. So do polls that show his "favorable" ratings are considerably lower than his competitors'. So does his campaign style, which makes it likely that supporters of the other candidates have felt personally insulted by the reality TV star.
And so does the simple fact that Trump has dominated the media for months, making it likely that most voters who are likely to support him already do so, and those who don't have made a relatively firm decision not to.
Bush is out. John Kasich had a disappointing night as well. As a less conservative Midwesterner, Kasich didn't have to win in South Carolina, but finishing in a weak fifth place, with only about 8 percent of the vote, makes it clear that he received little help from his (mediocre) second-place finish in New Hampshire. He has little money, a hard-to-discern path to victory, and most likely a host of Republican insiders who will be pushing him to drop out.
Trump beat Rubio and Ted Cruz by about 10 percentage points each in South Carolina. Bush and Kasich combined for about 15 percent of the vote. There's no guarantee all of those go to Rubio, but it sure seems likely, all being things equal.
Rubio also seems likely to receive many more endorsements in future contested states, as well as plenty of money to fuel his campaign (including Florida money previously pledged to Bush).
Cruz appears to have less room for improvement than Rubio. Still, he's one of three candidates who still has a chance to win the nomination, and if Rubio falters -- still quite possible -- Cruz will inherit the entire anti-Trump vote. The problem for Cruz remains that he is a factional candidate who just doesn't have an obvious argument against anyone who thought Bush or Kasich was a good candidate. What he needs is for Trump to collapse, and that doesn't seem to be happening.  
This column does not necessarily reflect the opinion of the editorial board or Bloomberg LP and its owners.