2016 Elections
God Wasn't on Trump's Side in South Carolina
Evangelical pastors backed other candidates. So did most religious voters.
by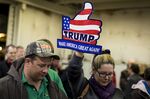 Perhaps the hardest thing to understand about Donald Trump's victory in South Carolina is how a twice-divorced, dirty-mouthed recent supporter of abortion who hardly ever goes to church could have carried a Bible Belt state where exit polls showed almost three-quarters of the Republican voters identifying themselves as born-again or evangelical Christians.
Matching such self-identification with church attendance wouldn't be easy, though, and, having spent some time talking to pastors and parishioners in South Carolina, I don't think Trump won over the truly devout voters. Ted Cruz and Marco Rubio got them. Trump won the xenophobes, and though they may be an overlapping constituency, that's not quite the same as getting the support of evangelicals.
Last week, I heard Cruz speak at a Faith and Freedom Coalition forum at First Baptist North Spartanburg, a megachurch with average Sunday attendance of 2,600 people. Most of the congregation was assembled to hear Cruz and another presidential hopeful, Ben Carson, speak. Cruz had a story to tell about his parents' conversion. When he was little and his family lived in Canada, he said, his parents were both drinking too much and fighting all the time. Then his father moved to Texas. "He no longer wanted to be father to a 3-year-old son," Cruz intoned.
Then, on April 15, 1975, Cruz's father met a Baptist pastor who "shared the Gospel with him." After finding God, Rafael Bienvenido Cruz went back to Canada, reunited with his wife and moved the family to the U.S. "The Christian faith is real to me," Cruz said. "I gave my life to Jesus when I was 8. If it weren't for faith, my parents wouldn't have stayed together, and I wouldn't have met my wife, the daughter of Christian missionaries."
"God's good, isn't he?" said moderator Ralph Carter, pastor of another megachurch, in nearby Taylors, after Cruz was finished with his testimony. The audience had hushed, but now they applauded the senator as one of their own. Once the event was over, there was a line to buy signed copies of Cruz's book, "A Time for Truth." I asked people who they were going to vote for, and all I heard was "Cruz," Rubio," occasionally "Carson." (The neurosurgeon had his own striking story to tell, about a little boy with a seemingly incurable tumor whose godly parents kept gently pressing Carson to try again and again to remove the malignancy; the boy is now a pastor.) 
Cruz boasted endorsements from 300 South Carolina pastors. Trump had none to brag about. He had the backing of Jerry Falwell Jr., who lives in Virginia, and Mike Murdock, who preaches out of Texas, but no local clergy leaders took him seriously.
Conrad "Buster" Brown, the pastor of East Cooper Baptist Church in Mount Pleasant, told me he didn't endorse candidates, just encouraged his congregation to vote their values. These values are, of course, conservative: All life is sacred from conception, marriage is only possible between a man and a woman. When I asked him which candidates fit that framework, he named every single Republican candidate except Trump. Brown himself voted for Rubio.
Perry Noble, pastor of another megachurch -- NewSpring at Anderson with attendance of 23,000 at multiple locations throughout the state -- last week tweeted up a storm calling on his parishioners not to vote for Trump. "C'mon y'all, we are better than that," he wrote. 
A theory was making the rounds in South Carolina that the more traditional churches, especially in the north of the state, were dead set against Trump because he's not an evangelical like Cruz, not even a devout Catholic like Rubio, and that his conservative beliefs appear affected rather than genuine. But newer, more modern churches, the theory went, leaned toward the New Yorker, because they were more relaxed and, well, more into show business, just like Trump himself.
I tested it at Seacoast Church, which has an average attendance of 12,000 at its network of "campuses" and broadcasts its services on the Internet. 
The Saturday evening service at its central location in Mount Pleasant, in the Low Country, was more like a rock concert than a liturgy. The band's guitarist sounded like U2's Edge, and the sound and lighting were set up more professionally than at most clubs. The pastor, wearing a sweater and khakis, delivered his sermon with his hands in his pockets. Seacoast is known as the area's "rock-n-roll church." 
Lead pastor Josh Surratt, the 36-year-old son of the church's founder, had heard the theory about the new churches, too. He said he knew some Seacoast attendees who had decided to back Trump. "You have to remember you're not voting for a pastor, you're voting for a president," Surratt said. "You vote your values, but sometimes you compromise for the sake of leadership. I guess these people voted their disappointment with how the U.S. government works rather than their faith."
Did Surratt himself back the billionaire? "I can definitely say I didn't vote for Donald Trump," he said. He sounded amused at the idea. I didn't meet any Trump supporters at Seacoast that evening, either.
I met plenty of those on Friday night, at Trump's last rally before the vote, in North Charleston. There were about 3,000 people in attendance. The event started with a prayer, as do many campaign events in South Carolina, so I suppose some of the attendees who bowed their heads and said "Amen" described themselves as evangelicals. Trump, however, didn't testify to his love of Christ, didn't talk about faith at all. He talked about building a border wall. He also recounted the urban legend about U.S. General Jack Pershing who had Muslim rebels in the Philippines shot with bullets doused in pig blood so they wouldn't go to heaven. That, Trump said, prevented any further "terrorism" against Pershing's troops.
The audience lapped it up. It clapped, screamed, shook Trump placards. Pig's blood, way to go! Exit polls showed that three-quarters of the Republicans in South Carolina backed banning Muslims from entering the U.S.
If many of these voters also describe themselves as evangelical Christians, I think I understand where they're coming from. It was perhaps the biggest surprise for me in South Carolina, with a 23 percent African-American population, how uniformly white the Republican-leaning evangelical congregations are. At the Spartanburg event, Carson's was one of perhaps half a dozen black faces. Brown of East Cooper Baptist told me his congregation was up to 10 percent black. Surratt of Seacoast said his church had up to 20 percent African-Americans, but I only saw a handful among the 700 who attended the service with me.
The pastors say the rather uniform racial makeup of their churches is mainly a matter of history and stylistic preference: Black Christians worship differently. They like more exuberant music, and it's rare for them to come to church informally dressed or call their pastor by his or her first name, as the white evangelicals often do. I rather suspect there's more to it, though.
On Sunday morning, I attended a service at Charleston's Emanuel African Methodist Episcopal Church, where nine people were shot and killed people last June by, prosecutors say, white supremacist Dylann Roof. Two gospel choirs performed with abandon, a trumpeter improvised over the jazzy sound of the organ, sunlight shone through stained-glass windows, and parishioners addressed their pastor, Betty Deas Clark, as Dr. Clark. The liturgy was far more formal and yet more fervent than at Seacoast. And I saw more white faces in that traditionally black church than I had seen black ones at Seacoast and the Spartanburg church combined. 
"I guess the reason that we have the mixture that we have is because the tragedy was the foundation for bringing us together," Clark, who only became pastor of church a month ago, told me. "The love of God brought us together, and it's teaching us to worship as a unit."
What this means, translated into plainer language, is that the shooting broke down the racial barrier. The white Christians who now attend Emanuel didn't want to associate themselves with the shooter, who had tried and failed to start a "race war" in Charleston. 
According to the 2015 National Congregations Study, "eighty-six percent (86%) of American congregations (containing 80% of religious service attendees) remain overwhelmingly white or black or Hispanic or Asian." That is changing -- and the white pastors say so too -- but too slowly for the distrust of people who look different and worship differently to dissipate yet. There is a strong feeling among white evangelicals that their religious freedoms are threatened, and some believe the threat comes from all those "others." These are the Christian voters Trump is picking up.
These people may have handed him an overall victory in South Carolina, but most of the conservative, vote-your-values Christians clearly went against him. In Spartanburg County, where Cruz's testimony was so well-received, 62 percent of the ballots were cast for Trump's rivals, Cruz leading among them. In Anderson County, home of Perry Noble, Trump beat Cruz by a 6 percent margin, but more than two-thirds of voters did not support him. Charleston County, home to Seacoast and East Cooper Baptist, went for Rubio.
I rather doubt the "anyone but Trump" evangelical crowd will change its mind and back the New Yorker in a general election if it comes to that. They're more likely not to turn out at all. Also, I can't help thinking where Trump would be if he only had one opponent with all the right boxes checked on the values checklist. He may not put much stock in loser math, but there are real people behind it whose beliefs are stronger than the instinctive xenophobia that has carried him to the top.
This column does not necessarily reflect the opinion of the editorial board or Bloomberg LP and its owners.