2016 Elections
Trump Wants All His Rivals to Come in Second
Even if he wins in South Carolina, he might lose if others drop out.
by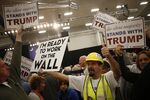 South Carolina Republicans vote on Saturday, while Democrats in Nevada caucus on the same day. This is the third of four early states for both parties. On Tuesday, Republicans will hold their caucuses in Nevada, and Democrats compete in South Carolina on Feb. 27, a week from Saturday.
The early events are much more about knocking out the losers than they are about crowning a winner. So even though these contests are seen as big tests for Hillary Clinton, all we're mainly talking about on the Democratic side is a handful of delegates, since that race consists of just two candidates. But for the six Republicans on the ballot, it's a fight to avoid being eliminated.
Yes, there can be multiple winners, since the goal is to survive. And in large part because demographic differences among states can be large, it's good to set winning and losing against reasonable expectations.
Because caucus states are difficult to poll, we don't know what will happen in Nevada. A victory for Bernie Sanders, however narrow, would be impressive. For reasonable expectations, see Nate Silver's estimates of what would happen in each state in a nationally tied contest between Clinton and Sanders. Clinton beat those estimates in Iowa, where Sanders "should" have won by six percentage points to be on track to end up in a tie at the end of all primaries and caucuses. 
As impressive as Sanders's victory was in New Hampshire, it wasn't quite as big as his demographic advantages in that state suggested it could have been. Silver estimates that Clinton should have about an advantage of three percentage points in Nevada.
Remember: The delegates will be roughly split as long as the vote is close, since Democrats divide all delegates proportionally. And in the long run Clinton's large superdelegate lead means she more or less only has to tie Sanders among pledged delegates. Party support gives her plenty of leeway to survive a few disappointing states.
For Republicans in South Carolina, it will be easier to spot the losers than to interpret the results for the winners.
If the polls are correct, Jeb Bush will probably be the next candidate to drop out. Unless he can finish in the top three in a state that should have been good for him, there's no reason for him to continue.
It's harder to guess what it will take for John Kasich to survive. Expectations for him aren't high in South Carolina. Still, no candidate can hope to win the nomination by writing off entire regions, as Kasich seems to be doing in the South and perhaps the West. If Kasich can't at least reach 10 percent of the vote in South Carolina, especially if he also disappoints in Nevada on Tuesday, he may not make it to the Midwestern states he hopes to win. Or if he does continue, he'll be unlikely to win enough votes in the March 1 Super Tuesday states to make much of a difference.
Donald Trump is still expected to win in South Carolina. This will be a third test to see if his percentage of a vote in a state matches his national percentage of the vote in horse-race polls. He's at 38 percent in national polling right now, which would be formidable in a three-candidate race.  He almost reached that level in New Hampshire (35.3 percent) and fell far short in Iowa (24.3 percent). If the national polls exaggerate his popularity, then he'll need at least a four-candidate contest in order to win. It's much more likely we'll be down to two or three soon.
Ted Cruz and Marco Rubio are second and third in South Carolina polling, with Cruz perhaps having a small edge. Barring any surprises, they'll finish in those two slots, and one of them will win bragging rights. It might also be a hint at which one has an edge in several Southern states voting on March 1.
But barring any surprises, their exact finish matters less than whether those below them are pushed out and how tough a target Trump looks to be going forward.
This column does not necessarily reflect the opinion of the editorial board or Bloomberg LP and its owners.