Banking
Let Darwinism Decide Fate of Ailing Banks
Taxpayers will still be on the hook if a bank fails. That's wrong.
by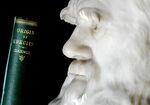 European regulators are tying themselves into knots rewriting the rules for the financial system. Specifically, they want to ensure they won't have to use taxpayers' money to buy lifeboats if a renewed financial crisis threatens to torpedo the region's banks. One option that doesn't seem to be on the table, though, is to simply stand aside, let natural selection run its course and allow ailing banks to go bust.
Investors are increasingly concerned about the viability of European banks. Their profitability has fallen as negative interest rates at the European Central Bank have curbed what they can charge their customers for money. Many are saddled with loans that aren't being paid -- Italian banks alone have 200 billion euros ($222 billion) worth of non-performing loans -- and their stock prices are getting trashed, which puts balance sheets under increased pressure.
Since their July peak, European bank stocks have underperformed the broader Stoxx Europe 600 index by more than 16 percent:

Every single one of the 47 members of that bank index is down by at least 7 percent. And within that broad movement are some truly spectacular individual declines:

After losing more than half its value in the past year, Deutsche Bank's market capitalization is 22 billion euros. Here's what happened in the past six months to the price of Deutsche Bank's five-year credit-default swap, which basically tells you the cost of buying insurance against the bank failing to pay its debts:

The rout began earlier this month when Simon Adamson, an analyst at CreditSights Inc., questioned the bank's ability to meet its interest payments next year if litigation costs were higher than expected or if profitability slumped. On Feb. 9, co-Chief Executive Officer John Cryan was moved to pen a note to employees to "reassure the market of our capacity and commitment to pay coupons to investors." Even though, in the past few weeks, the pressure in the derivatives market has eased, the market is still pricing default insurance at three times its cost in October.
Juergen Fitschen, the other co-CEO, told Stern magazine that "it cannot be excluded that there is a bank somewhere in Europe that can go bankrupt." Given the recent travails of his institution, it's interesting to speculate what the authorities would do in the unlikely event Germany's biggest bank threatened to blow up. Unfortunately, the answer is that taxpayers would probably still find themselves on the hook, albeit after stock and bondholders had felt their fair share of the pain.
I've argued for years that a policy error on the part of U.S. authorities worsened the credit crisis. When Bear Stearns threatened to go bang, they underwrote its purchase by JPMorgan, which meant the subsequent decision not to rescue Lehman Brothers surprised the market. Had Bear been allowed to die a natural death, the world's investment banks would have been much swifter to bolster their balance sheets. If a European bank soon heads for the glue factory, let's hope regulators here will hold their nerve and let it fail.
This column does not necessarily reflect the opinion of the editorial board or Bloomberg LP and its owners.