Latin America
Brazilian Soccer's Unforgiving Moral Code
Brazil's corrupt politicians slip the legal noose. Its sports stars rarely escape.
by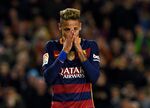 If there is one Brazilian who needs no introduction, it's Neymar. The 24-year-old star striker for FC Barcelona is his country's best-known footballer since Pele. The same on-pitch heroics that have kept him in yachts and fancy cars also have been a salve of sorts for a nation battered by political scandals and a brutal economic downturn.
Until now, anyway. This week, a federal judge in Brazil ordered nearly $50 million of Neymar's assets to be frozen, including his private jet, a yacht, and a collection of fast cars and luxury homes. That amount is far beyond the $16 million or so that prosecutors say the soccer great failed to pay in taxes in recent years: Brazil's standard penalty for tax cheats includes the unpaid taxes plus a hefty fine.
That idols are not above the law is good news for Brazil. After all, the country is in the midst of a massive mop-up of shady dealings in the government and in corporate boardrooms. The so-called Operation Car Wash investigation into corruption at state-run oil company Petrobras has sent some of Brazil's most powerful public figures and executives to court, and even to jail.
The suppurating scandal has President Dilma Rousseff fighting an impeachment drive that is closing in on her massively popular predecessor, Luiz Inacio Lula da Silva, who allegedly accepted corporate bribes to spruce up a country home and remodel a beachside apartment.
So it's tempting to see the case against Neymar as part of this wider ethical overhaul. Brazil should be so lucky: The Car Wash crackdown is encouraging but recent, and a career in politics is still seen as a fast pass to impunity.
Consider Brazil's Congress, where as of December nearly 30 percent of lower-house representatives and 40 percent of senators were answering to criminal charges, according to Congresso em Foco, a website that monitors the legislature.
And yet these lawmakers are free to vote on legislation and draw salaries, unless their colleagues strip them of parliamentary immunity and the Supreme Court convicts them. But don't hold your breath: Only 16 serving lawmakers have been convicted over the last 28 years.
Celebrities have it tougher. Although some Brazilians enjoy rock-star status, fame can make them easy targets, not least in soccer. All-time idol Pele, revered in Brazil as "the King," was on the guest list of palaces around the world, but his aura did little good when his son was convicted of laundering money and for his involvement with a drug gang, nor did it keep Pele out of the headlines when his sports marketing company was accused of taking money meant for charity. (Pele was not personally implicated, but his reputation took a hit.)
Romario, another famous striker, was arrested and briefly jailed in 2009 for missing alimony payments, and the entire Brazilian national team was hauled in by the federal tax authority in 1994 when they returned from their World Cup victory on a plane laden with contraband. "Impunity is more for the powerful than the famous," sports journalist Juca Kfouri told me. "Brazil's idols have never been spared."
Maybe it's a cultural thing. Futebol, after all, is practically a religion in Brazil, perhaps because it's where merit and talent trump connections and wealth. Brazilians are rightfully proud of the game that has won them an unequaled five World Cups (notwithstanding the national team's collapse in the last tournament), and homegrown talent may be the country's most successful value-added export.
That makes football a brand too important to mess with, a conviction that glories in sleight of foot but abhors sleight of hand. Brazilians were exultant last year when U.S. Attorney General Loretta Lynch indicted top FIFA officials on charges of corruption, racketeering and money laundering.
Neymar's alleged tax dodge may seem like a peccadillo compared to the offenses Brazil's high and mighty are accused of committing. But he will likely get no quarter from the courts or the Brazilian street. How the game will end for the country's elite squad of politicians and moguls is still unclear.
This column does not necessarily reflect the opinion of the editorial board or Bloomberg LP and its owners.