2016 Elections
Rubio's Winning Endorsements, If Not Votes
It will take more than a few governors to keep his campaign alive.
by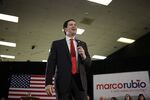 Governor Nikki Haley is set to endorse Marco Rubio, joining Senator Tim Scott and Representative Trey Gowdy as the Big Three of South Carolina conservative Republicans in his corner. 
It isn't just in South Carolina. Governor Sam Brownback of Kansas endorsed him this week. Of the 13 senators who have endorsed GOP candidates, seven back Rubio, and he leads in support among members of the House as well. He has also moved further ahead among current and former state legislators.
And Haley's endorsement signals he's likely to add similar endorsements as the primaries move to new states. 
Will it do Rubio any good?
Few people will say they vote the way politicians tell them to, even when they like the candidate. Yet several mechanisms are at work that could push voters in Rubio's direction as an indirect result of Haley's endorsement.
For one, scholars of voting have found that learning additional good things about a candidate tends to make people more willing to vote for him or her, while learning additional bad things has the opposite effect. Yes, that seems obvious. The key, however, is that most voters know few things about candidates, even in a hotly contested election. We can be relatively certain that most South Carolina Republican voters will hear about this late-breaking endorsement before they vote on Saturday.
For another, momentum sometimes really can affect the outcome in presidential primaries. Voters like going with winners, and the news media typically gives more coverage to candidates who are perceived as improving. The perception of momentum created by Haley might become self-fulfilling.
And a third potential effect is that primary voters often make strategic decisions when there are relatively small differences among most candidates. Haley's endorsement could serve as a cue to those who care most about defeating Donald Trump, Ted Cruz or both, but who are relatively indifferent about whether Rubio or Jeb Bush or John Kasich, say, gets their vote.
The key is how large these effects might be. Currently Rubio is in third place in South Carolina polls, some 2 to 5 percentage points behind Cruz, and 6 or more points ahead of Kasich and Bush. It isn't hard to imagine the Florida senator reaching second place in South Carolina and carrying 20 percent of the vote.
Unless the polls are wrong, however, it would take a much larger surge for him to catch Trump, who is currently at about 35 percent in the polls. Strong late shifts in presidential primaries aren't all that unusual, but there's no sign of that happening so far. 
But Rubio does not need to win South Carolina to win the Republican nomination. He just has to bring Trump's share of the vote down or to knock out his competitors to set up a one-on-one showdown. 
Bush probably won't survive a fourth-place finish in South Carolina. It's harder to tell what might drive Kasich out, but as much as the Ohio governor talks about rallying in the big Midwestern states, he'll need to show some sign of support in the South and West (such as in Nevada on Feb. 23) to have any realistic hope of being nominated. So a three-candidate race among Rubio, Cruz and Trump (perhaps with Ben Carson still hanging around but taking few votes) is fairly likely.
What would help Rubio is defeating Cruz not only in South Carolina, but in Super Tuesday states such as Georgia, Alabama and Arkansas on March 1. If he can do that (even assuming Cruz wins in Texas that day), it's possible Rubio could get that one-on-one battle quickly. 
If not? A three-man race in which Trump gets about a third of the vote in every state would be tough but possible for Rubio to win. A three-way race in which Trump gets two-fifths of the vote would be even harder. Trump is currently at 38 percent in national polls of Republicans.  
So if getting South Carolina's governor on his side makes it more likely Rubio is one of the final three candidates, he has probably increased his chances of doing even better than that.
This column does not necessarily reflect the opinion of the editorial board or Bloomberg LP and its owners.