U.K.
Starbucks Threatens Closing Time for British Pubs
Pubs will suffer as the coffee giant goes from lattes to lagers.
by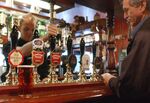 Tim Page, chief executive of the Campaign for Real Ale lobbying group, reckons 27 British pubs are closing every week. While that's down from 30 per week in 2014, it suggests the industry is still reeling from cheap supermarket booze, a general decline in alcohol consumption and a housing boom that makes turning pubs into flats a lucrative enterprise. And now, pubs face yet another competitor for their dwindling bar crowd: Starbucks.