Religion
Israel Reaches Out to an Old Ally: American Jews
Changes at Western Wall signal that the non-Orthodox are welcomed back.
by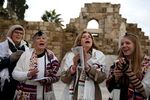 Outside the spotlight, one long-standing Israeli rift seems to be healing, at least for now.
The Jewish State has long had a fraught relationship with the non-Orthodox Jewish community in the U.S. Some 90 percent of American Jews are not Orthodox, and at a moment when Israel is becoming more marginalized internationally, the government seems to be trying to mend fences with a Jewish community increasingly divided on Israel-related issues. A nadir in American Jewish sentiment about Israel appeared in a study that asked American Jews whether the destruction of the Jewish State would be a personal tragedy for them. Among American Jews age 65 and older, 80 percent responded that it would. Among those under 35, however, that number dropped to a mere 50 percent. A more recent Pew Research Center Portrait of American Jews confirmed a greater ambivalence about Israel among America's young Jews.
The clearest indication of Israel's apparent desire to mend some fences is a recent decision by the Israeli government to approve a new prayer space at the Western Wall where men and women can worship together. Such mixed-sex worship is a significant departure from the Orthodox tradition that has long governed policy there. For years, a feminist group called Women of the Wall has been demanding the right to wear prayer shawls and don phylacteries (long the province of only men) and to read from the Torah there. The rabbi of the Western Wall, Shmuel Rabinowitz, like the rest of the Orthodox establishment, has consistently pushed back, vowing to defend Orthodoxy's hegemony over the site.
Why the policy change now? The official explanation is that the government wanted to reach a deal before Cabinet Secretary Avichai Mendelblit began his new position as attorney general. Mendelblit has been a central player in the negotiations, and those involved worried that his departure might undo much of the progress that had been made. That, however, begs the question. Even if Mendelblit's looming departure explained the timing, why was the government so eager to reach a deal in the first place?
There are other indications that this move may be part of a low-key but coordinated thaw. Almost two months ago, Israel's chief Ashkenzi rabbi, David Lau, was openly critical of a visit by Naftali Bennett, minister of education and minister of Diaspora affairs, to a Jewish day school in New York affiliated with the Conservative movement. Such a visit, said the chief rabbi, was "unacceptable to the Jewish people."
Interestingly, Bennett, an Orthodox leader himself who must be careful not to alienate his right-wing supporters, hit back. His office's response said that "Minister Bennett believes that public leaders in Israel need to bring Jews closer and not alienate them, and he views comments that alienate rather than bringing people closer with major concern. We are in an emergency situation for Jews of the Diaspora, with assimilation affecting millions of Jews. As the minister in the Israeli government responsible for the Diaspora, Bennett is proud of the fact that addressing [the needs] of Jews of every kind and will continue to meet with all Jews of every stream."
That was, to say the least, a change in tone for the government. More typical was the comment, this past July, by Religious Services Minister David Azoulay of the ultra-Orthodox Shas party, who said of Reform Jews, "I can't permit myself to say he is a Jew."
Even Israel's president, Reuven Rivlin, is backtracking. Rivlin, who has made high-profile overtures to Israel's Arab community, is now trying to build a relationship with the American Reform and Conservative movements as well. In 1989, Rivlin said, not terribly politically correctly, that Reform Judaism was "idol worship and not Judaism." Last year, when he met with Rabbi Rick Jacobs, head of the Reform movement, he addressed Jacobs as "rabbi." At this year's White House Hanukkah Party, he lit the candles with St. Louis Reform Rabbi Susan Talvie. In July, Rivlin held a study session with Reform and Conservative rabbis. It seems to be working. Said Rabbi Gilad Kariv, CEO of the Reform movement in Israel, "Since he became president, he adopted a very respectful and embracing approach to us. … We are very impressed that, since he entered the role, he's taken on the mission to connect the different communities."
And now, Israel's Supreme Court has joined the chorus. This past week, justices ruled against Orthodox authorities and changed a long-standing policy that had prevented Reform and Conservative rabbis from using community mikva'ot for conversion ceremonies. Those public rituals baths, the court ruled, are just that: the province of Israeli society, not the Orthodox rabbinate. The court was not swayed by political pressure, that much is fairly certain. But the ruling comes at a time when the mending of fences seems to be a widespread theme.
This past summer's debate on the Iran deal highlighted the deepening split between American Jews and much of Israeli policy. With some leading analysts worried that many of the current candidates for U.S. president -- from either party, in fact -- would be problematic for Israel, it may just be that the Israeli government has learned that if it wants American Jewish support, it has to earn it. For those increasingly worried about the rift, the past months have brought some very good news. Israel seems to be reaching out, and American Jews have been responsive. Nancy Kaufman, CEO of the National Council of Jewish Women, said, the Western Wall decision "will help heal a rift that developed over this issue between the government and Jews who are not Orthodox. … Addressing this rift will also strengthen ties between Israel and American Jews in particular, most of whom are not Orthodox."
How long the government will sustain this policy in the face of possible pressure from the ultra-Orthodox community it needs to sustain its coalition, however, still remains to be seen.
This column does not necessarily reflect the opinion of the editorial board or Bloomberg LP and its owners.