Editorial Board
India Should Put Fiscal Discipline First
Prudence is exactly what the country needs.
by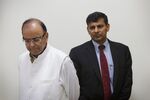 India is currently the world's fastest-growing major economy, with output rising more than 7 percent a year. Economists expect this to continue in the coming fiscal year. So it might seem the wrong time, and the wrong place, for greater caution in macroeconomic policy. Yet, with its next budget due shortly, prudence is exactly what India needs.
Many banks and big companies, not to mention some of Prime Minister Narendra Modi's key advisers, are pressing Finance Minister Arun Jaitley to relax his pledge to reduce India's fiscal deficit to 3.5 percent in the 2016 fiscal year. They point to underlying weakness in the economy: Corporate earnings are soft, private-sector investment is weak, and two bad monsoons in a row have cut demand. And they say additional public investment is needed to "crowd in" private investment. Jaitley hasn't tipped his hand yet, but it seems that some Finance Ministry officials sympathize.
They're mistaken -- for reasons that Raghuram Rajan, India's widely respected chief central banker, recently explained. Macroeconomic stability has been the secret of India's recent success. It's the reason India has shrugged off the bad monsoons and the setbacks faced by other emerging-market economies. Building on this hard-won reputation should be the government's first priority. Jaitley has already delayed the schedule for reducing the deficit once. If he does it again, the program will lack all credibility.
Softening the pace of fiscal consolidation would make more sense if excellent public investments could boost the rate of growth, making the addition to public borrowing easier to service. But with the economy already expanding at a healthy clip, this growth premium is unlikely to appear. As Rajan put it, where are the "very high-return investments that we are forgoing by staying on the consolidation path"?
Slippage on fiscal discipline would likely raise bond yields and add to India's burden of debt service. Fitch Ratings has warned of a possible downgrade of Indian debt. And maintaining the fiscal target has another benefit: Fiscal consolidation will help the central bank to ease monetary policy faster. 
To stay on the right fiscal track, India should postpone a hefty recommended pay hike for civil servants -- which would increase the deficit by more than 0.5 percent of GDP. Cuts in kerosene, food and fertilizer subsidies are desirable on other grounds but would improve the fiscal position as well. There's scope for divesting bigger government stakes in companies and even for outright privatizations. The government has a substantial portfolio of blue-chip stocks. This should be sold off.
India will need more than fiscal discipline to sustain strong growth and achieve its full potential. In the longer term, faster progress on the structural economic reforms Modi has promised matters at least as much. His government has made a start, but there's much more to do. The opposition Congress has hindered the effort by clogging up Parliament and blocking reforms that have wide support -- notably, a nationwide goods-and-services tax. Still, it falls to Modi to press more effectively for land and labor deregulation; to widen the tax base and increase compliance; to relieve bottlenecks in food production, education and health care; to pass a new bankruptcy law; and to keep cutting waste and red tape in government.
For now, though, attention is on the budget. Despite that earlier slippage in the fiscal plan, the government's commitment to rectitude is still believed. That's an asset too valuable to be risked again.