Editorial Board
Obama Can Make His Asia Pivot Endure
How to strengthen U.S. ties with Southeast Asia.
by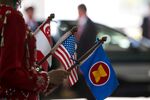 The unprecedented gathering of Southeast Asian leaders in California this week can be seen as a significant achievement for Barack Obama's oft-dismissed "pivot" to Asia. Now, the president needs to lay down a framework to sustain and deepen U.S. engagement with the region well after he leaves office.
Obama, to be sure, can hardly take full credit for the meeting. Recent actions by China -- especially its maritime claims in the South China Sea -- have driven several members of the Association of Southeast Asian Nations to sidle closer to the U.S. It's entirely possible that leaders in Beijing will find a way to recalibrate their approach, and even more likely that the next American president will be distracted by the morass in the Middle East. China's standard argument to Southeast Asia -- that the U.S. is a distant and unreliable partner -- remains persuasive.
Only steady, consistent engagement can overcome doubts about U.S. staying power. After some early stumbles, Obama has set a good precedent by committing the U.S. to several regional meetings, which should forge stronger bonds well into the future.
At the same time, more can be done to institutionalize closer ties with Southeast Asia, a $2.2 trillion market situated in a geopolitically crucial part of the world. So far, five years after the idea was raised by then-Secretary of State Hillary Clinton, no official document lays out the scope and priorities of America's Asia "rebalance." Such vagueness has generated considerable confusion (and occasional derision). More important, to be credible, the U.S. will need to put real money behind the strategic shift -- and that will be easier to do if diplomatic and military priorities are laid out in black and white.
Obama also has an opportunity to bind the U.S. economy closer to those in Southeast Asia. Four Asean members have already signed onto the Trans-Pacific Partnership trade pact. Indonesia, Thailand and the Philippines have expressed interest in joining. And the U.S. has promised to help them raise standards and streamline regulations as the pact requires.
Asean as a whole is already the top destination for U.S. investment in Asia -- amounting to $226 billion at the end of last year, more than that from China, Japan and South Korea combined. That's a strong base to build upon. A new plan will set up U.S. liaison offices in Singapore, Jakarta and Bangkok to work with regional governments to deepen investment and trade ties. That will allow American experts, for instance, to help countries such as Laos and Myanmar develop more bankable infrastructure projects.
In the long run, the U.S. has an interest in promoting not just open markets in the region, but also open societies, something that young Southeast Asians -- two-thirds of the region's population is under 35 -- can be expected to demand. While it would serve little purpose for Obama to publicly scold regional leaders this week, he can and should reiterate U.S. support for the rule of law and democratic values. Meanwhile, the administration should look for more concrete ways to encourage local media, youth leaders and civil groups to change their societies from within.
Above all, the U.S. will need to be realistic. In building closer ties to Southeast Asia, the goal isn't to lessen China's influence per se. Asean members have every reason to take advantage of the mainland's markets and investment. The priority should be to establish a transparent, rules-based order that enables the free flow of commerce and reinforces stability. That would be a benefit to all countries concerned.