2016 Elections
President Wanted. Experienced Candidates Need Not Apply.
Candidates with strong executive credentials are doing worse than those who would tear down the system.
by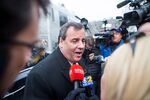 With the first two nominating contests out of the way, each party's field remains split along ideological lines. But there also is a deep divide separating candidates who stress their governance experience and those who cast such a background as irrelevant or even a liability when it comes to fixing a "broken" or "rigged" system.