2016 Elections
New Hampshire Turns Races Into Slogs
Dread stalks both party establishments as the strategists handicap the Southern contests.
by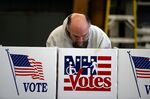 Delivering a rousing rejection of the established leadership of the two political parties, New Hampshire voters produced a presidential primary result that almost assures protracted battles for both nominations.
Bernie Sanders, the Democratic socialist from Vermont, scored a huge victory over Hillary Clinton on the Democratic side. Billionaire outsider Donald Trump, a onetime Democrat with no political experience, decisively won the Republican race.
Clinton, the former Secretary of State and spouse of President Bill Clinton, remains the nomination favorite. She has been weakened, however, a fact underscored by a two-and-a-half page memo downplaying the importance of the first four presidential contests that she released after conceding defeat Tuesday night. Any hope of wrapping up the nomination quickly to focus on the general election vanished with her crushing defeat in New Hampshire.
Even before the final ballots were cast there was finger-pointing in her campaign. The former president has made no secret in conversations with associates of his unhappiness with the campaign. It's going to be a rough couple of weeks in Clintonland.
Among Republicans, three establishment candidates can proceed to the next round. Ohio Governor John Kasich scored an impressive second-place finish, preserving a candidacy that had faltered in early polls. Jeb Bush, the former Florida governor and son and brother of presidents, finished back in the pack but has the money and incentive to continue. Florida Senator Marco Rubio trailed badly after a strong showing in the Feb. 1 Iowa caucuses.
The Iowa winner, Senator Ted Cruz of Texas, finished ahead of some mainstream candidates. A Tea Party favorite reviled by leaders of his own party, he had less at stake in more moderate New Hampshire and now moves to friendlier terrain in the South.
Trump gathered more than 30 percent of the New Hampshire Republican vote to far outdistance the field. Kasich got the strong Granite State showing he needed to give his financially-strapped campaign a boost, but still faces a tough slog.
The biggest loser was Rubio, who after a third-place finish in Iowa was emerging as the mainstream alternative to Trump and Cruz. That momentum came to a screeching halt in New Hampshire when he choked in a debate last weekend, seemingly confirming doubts raised by his rivals over his readiness to be President.
Bush, once the prohibitive favorite, was going to continue no matter the result. He became a more effective candidate in New Hampshire than he had been earlier in the race, but his loss to Kasich suggests that it's too little, too late.
While Trump and Cruz are the front-runners, much of the party establishment remains determined to find a mainstream alternative. At a breakfast in New Hampshire on Monday, John Sununu, a former governor and White House chief of staff, warned that the party faces peril if it nominates the New York businessman. "If Trump is the nominee," Sununu said, "Republican contested Senate seats all lose." Former Senator Judd Gregg, another ex-governor, suggested that Cruz would be even worse.
The scenario for a Trump triumph is straightforward. If the polls hold and he wins South Carolina in 10 days, and then scores victories on March 1, when 624 delegates, or almost a fourth of the total are selected, he would be hard to stop.
Cruz, with a much stronger campaign team, might be positioned to win more delegates than anyone on March 1, also known as the "SEC primary" after the college football conference in Southern states where most of the primaries are held that day. All 12 of that Tuesday's contests allot delegates proportionally, meaning that a candidate can win delegates without doing especially well in the voting. Careful targeting in Texas and Georgia, which together account for over a third of the delegates to be chosen that day, could give the right-wing Texas senator an advantage.
Money will not be an impediment for Trump, the New York businessman, or Cruz, whose campaign has raised more than that of any rival and has enlisted wealthy backers to fund a robust Super Pac.
Bush and Rubio, once close political allies and now increasingly bitter rivals, have the resources but they need some sort of a victory before a crucial primary in their home state of Florida on March 15. That's the first winner-take-all contest, and right now Trump and Cruz may be the strongest contenders for the state's 99 delegates.
Kasich, by contrast, needs money to stay competitive until the contest turns to the Midwest in Michigan on March 8 and his home state of Ohio the following week. Ohio also has a winner-take-all contest, for 66 delegates. The Kasich camp says it had pledges contingent on success in New Hampshire.
New Jersey Governor Chris Christie seems finished. He wounded Rubio with attacks in last weekend's debate but didn't help himself, finishing a dismal sixth in a state where he had staked his campaign.
On the Democratic side, the Clinton campaign was prepared to lose New Hampshire but not in a rout. There is considerable internal dissent over what's gone wrong and what to do. When it comes to personnel, the Clintons tend to add layers rather than replace people, and informed sources say campaign chief Robby Mook seems safe.
The bigger issue may be Clinton's message. Sanders presents a clear narrative of what's wrong with U.S. politics and direct (if unrealistic) promises of things like government-financed universal healthcare, free college tuition and expanded Social Security underwritten by taxes on the wealthy. Clinton's message is much more nuanced. There is a divide among Clinton advisers about whether to attack Sanders sharply, and fears that a bitter contest could hurt Democrats in the general election.
Politically, they believe their candidate will become stronger as the race turns to Southern and industrial states with more diverse electorates than Iowa's or New Hampshire's. They are looking for a big win in South Carolina -- the Democratic primary there is Feb. 27 – followed by more in March, when over half the delegates are chosen, to run up a commanding lead.
But Sanders strategists say that proportional selection will enable them to pick up delegates even in Clinton strongholds. And they see a number of states in the next wave that they think they can win. These include Nevada, the next Democratic primary on Feb. 20, and then caucuses and primaries in Colorado, Minnesota, Vermont, Massachusetts and Oklahoma.
Their goal is to lead in pledged delegates at the end of March. If they do, the Democratic establishment may find itself in Republican-style panic mode.
This column does not necessarily reflect the opinion of the editorial board or Bloomberg LP and its owners.