2016 Elections
New Hampshire Tests Candidates on Addiction
The state's drug epidemic has forced candidates to recall painful personal stories, but they have struggled to offer solutions.
by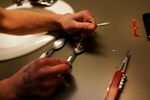 Melissa Crews has always voted Democratic, though her husband is a staunch Republican. This year, the family split is coming to an end: Melissa is switching sides, and heroin is the principal reason.
Crews is board chair at Hope for New Hampshire Recovery, a nonprofit she helped set up last year to battle the state's heroin epidemic. New Hampshire was third in the nation in death rates from overdoses in 2014 (the latest year for which data are available from the Centers for Disease Control and Prevention) and in the top 10 for the use of illicit drugs other than marijuana. People who work for local nonprofits fighting the rising drug use say at least 100,000 of the state's 1.3 million people need help with addictions.
Candidates have heard about the problem at pretty much every town hall they have held here. But Crews started her publicity campaign with them even earlier, when she met New Jersey Governor Chris Christie at a dinner in April 2015. "There were maybe 10 people at the dinner and they sat there talking politics," Crews remembers. "I'm not very political, but there was Christie seated opposite me, and I started talking to him about this. We ended up talking pretty much all night."
Christie later visited Hope's recovery center in Manchester, and so did Jeb Bush and Bernie Sanders. The group's publicity campaign has been helped as much by Crews's local connections -- she is co-owner of two restaurants in Manchester and her husband owns car dealerships -- as by the activism of Kriss Blevins, a make-up artist who lost her stepdaughter to a heroin overdose. Blevins has had most of the presidential candidates in her chair before their TV appearances, and she used the opportunity to raise the issue.
Soon, the candidates were talking on the stump about their personal run-ins with addiction. Christie spoke of an old friend from law school who hurt his back running and became addicted to the prescription opioid painkiller Percocet, lost everything and died of an overdose. Bush recalled his daughter Noelle's drug problems. Carly Fiorina spoke of the death of her stepdaughter Lori Ann, who was addicted to alcohol and prescription drugs. Donald Trump discussed the alcoholism of his late brother Fred. Ted Cruz remembered his older half-sister Miriam, dead of an overdose. Marco Rubio, whose family has had to deal with a somewhat different drug-related issue -- the arrest of a brother-in-law for drug smuggling -- doesn't use that on the stump, but stresses that he, too, sees addicts as victims rather than criminals.
"Republicans are looked at as people who don't care," Crews says. "But you notice how it's just the Republican candidates who tell these stories. The Democrats don't, and I can't believe they don't know anyone with substance use disorder. I mean, do you? Everyone does."
The Democrats, too, talk about addicts as people who need help rather than the makers of bad personal choices. The personal angle, however, is more important to Crews. Crews says she believes Bush is sincere: He came to Hope's recovery center without cameras, talked knowledgeably to the staff and made a donation. That has sealed her decision to support him in the primary.
It's hard to miss that though the candidates have waxed sentimental about lost or suffering loved ones, their proposals for fixing the problem are at best simplistic. "The Republicans stress enforcement, the Democrats want more funds for treatment, more beds," says Michael Coughlin, chief executive of the Tri-County Community Action Program, which runs a recovery treatment center in Berlin, in New Hampshire's north country. 
Indeed, Trump's solution -- and Cruz's -- is to build a wall on the Mexican border. Most of the heroin sold in the U.S. market does come from Mexico, and from Colombia via Mexico. But the wall idea doesn't play well in New Hampshire. Coughlin calls it "ridiculous," and during a recent Cruz campaign appearance in Salem a voter began taking off Cruz buttons when he heard the wall was at the center of the senator's anti-addiction plan.
Half or more of the addicts who come to Hope's recovery program or Tri-County's 18-bed treatment center got hooked on perfectly legal prescription drugs. They switched to heroin because it was cheaper than the medication they craved but could no longer afford when their pharmacy benefits run out. A heroin dose costs $4 to $5, while an opioid painkiller pill can cost between $20 and $80, says Dennis Dutra, who used to sell both on the streets of Providence, Rhode Island, and who now works at Hope's recovery center.
It's a marketing strategy for the cartels to go after the prescription drug addicts with a cheaper, more powerful offering. Yet it's not the cartels that are getting them hooked in the first place -- doctors are, when they prescribe the opioids and then keep the prescriptions flowing. It's not the cartels, either, that are charging high prices for the prescription drugs and limiting the insurance coverage. People addicted to painkillers are 40 times as likely as anyone else to develop a heroin habit. 
Crackdowns on opioid prescriptions are as counterproductive as the border wall. Just as cutting off a supply channel stimulates traffickers' ingenuity, limiting doctors' ability to prescribe opioids only leads addicts to seek relief on the street. Addicts and the shadowy businesspeople who serve them are clever at bypassing all kinds of restrictions.
A brave Democrat could call for the nationwide legalization of medical marijuana. States that have legalized it -- New Hampshire is not among them -- have lower rates of opioid mortality. Yet the idea is not particularly popular in the addiction recovery community: Many there see marijuana as a gateway drug. "I have a niece who started with marijuana, and then we had to get her out of a crack house," Crews says. Besides, it's possible that the Mexican cartels have responded to marijuana legalization in the U.S. by shifting to heroin production.
Of all the candidates in this election, it's Clinton and Bush who have the most multifaceted anti-addiction plans that combine enforcement with support for treatment and recovery programs and efforts to destigmatize addiction. Crews trusts Bush more: She believes he will invest in programs like hers rather than in expanded government control. "Big government is when, instead of hiring more people to work in prevention, treatment and recovery, they hire more people to go around and assess the situation," she says.
To Coughlin, however, the Republicans' newfound sentimentality about addiction is just a response to the drug epidemic's shift from blacks and Latinos to the party's core voters: Unlike crack in the 1980s, opioids are a white problem, and they claim victims in rural areas as well as in cities.
"Any real plan would need to recognize that this is an economic problem that's hitting poor people harder than rich people," Coughlin says. "When the manufacturing economy died here in the 2000s, it sucked the air out of the place. Then came the depression, the alcohol and the drugs."
New Hampshire has helped educate candidates about the nationwide opioid epidemic. The personal stories and, in some cases, the published action plans show that the presidential hopefuls have been listening and doing their best to learn and respond. In the end, however, there is probably no nuts-and-bolts solution to the problem. For the epidemic to die down, there would need to be a more comprehensive economic recovery even in a state where unemployment is already low -- the kind that would "lift everyone," as Republican candidates like to say. 
At the same time, it would take a smarter and more equitable health care system that would phase out highly addictive drugs and make treatment available to everyone, not just those with good insurance. In New Hampshire, those with little money have to wait for weeks for a bed to become available, and all nonprofit recovery centers can do for them is provide coffee and sympathy while they go through withdrawal. And, as anyone who has kicked a drug habit knows, even informed sympathy is often not enough to ease the pain.
This column does not necessarily reflect the opinion of the editorial board or Bloomberg LP and its owners.