view
Worried About Bond Liquidity? Blame the Regulators
The unintended consequence of tighter rules is reduced liquidity.
by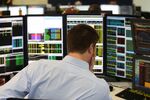 Bond market liquidity, as my colleague Matt Levine frequently notes, has a lot of investors worried. In a surprising twist to the debate, Britain's Treasury points a finger straight at European regulators for strangling the market. Her Majesty's Treasury is right.
The concern about bond liquidity has two key elements. One worry is over what might happen if there's a fire in the debt markets and everyone rushes for the door at once. With banks committing less capital to their trading arms, the doorway to get out of an investment becomes narrower. A second worry is that reduced activity and shrinking turnover means bond prices aren't reliable.
The European Commission asked agencies, regulators and other market participants to comment on the current state of play "given the large amount of legislation put in place and the interactions between them" and the corresponding "need to understand their combined impact and whether they give rise to any unintended consequences." In its reply this month, the U.K. Treasury made four points about market liquidity -- all of them negative:
On short-selling bans, when investors are temporarily banned from betting on stock-price decline: 
The use of short-selling bans is not effective and instead reduces liquidity at times of price falls which impacts the efficient functioning of markets.
On settlement discipline, making sure the market infrastructure prevents failed trades: 
Settlement discipline measures (especially when applied to less liquid securities) may have the unintended consequence of a negative impact on markets by reducing liquidity and increasing costs.
On non-equity transparency, requiring firms to post reliable prices on fixed-income securities and derivatives: 
The effect of poorly calibrated transparency requirements in secondary markets may have a significant impact on the costs of financing and hedging risks in the wider economy. Issuers could face higher funding costs to attract investors and the costs to corporates of hedging in derivative markets could increase.
On bond market liquidity directly: 
Fixed-income market participants, including national debt managers, are observing declining market liquidity across all major bond markets. The EU's application of Basel agreements on bank capital requirements (in particular, the non-risk based Leverage Ratio measure) has been commonly cited as a cause of poorer liquidity in fixed income instruments.
Citing work by the International Monetary Fund and the Bank for International Settlements, the Treasury says that Europe's definition of liquidity -- a bond that trades at least twice a day on average, in 80 percent of trading sessions and for a notional amount of 100,000 euros ($111,000) -- overestimates turnover:
As depth in fixed income markets has been declining, execution strategies have increasingly been carried out using more trades with smaller ticket sizes. This is a sign of deteriorating liquidity, but the liquidity criteria in MiFID capture this as increased liquidity.
Europe's investment banks are sacking traders and shrinking their trading divisions in response to the raft of new and forthcoming regulations (the big one is the proposed Markets in Financial Instruments Directive, known as MiFID II). It's harder to make money in a business with big fixed costs when the rules on capital make it more expensive to trade. Here, for example, is what happened to Credit Suisse's trading revenue in the fourth quarter as its global markets division lost $644 million, compare with a $375 million profit a year earlier:

Marcus Ashworth, who writes a daily market commentary as the chief markets strategist at Haitong Securities U.K., had this to say in response to last week's Credit Suisse results in its Fixed Income, Currencies and Commodities division:
There was a discernible shiver down the spine about how badly Credit Suisse fared in FICC.  At some point -- not until some bank goes beyond the ethereal point of non-viability naturally -- the regulators are going to have to rethink what is happening to their banking industry and how important a healthy financial system is.
Alex Bridport runs a bond brokerage in Geneva called Bridport & Cie. His market analyst, Caroline Weber, has been analyzing the firm's trading data for last year. It paints a worrying picture of the reliability of market prices:  
Looking at our internal trading statistics for 2015, approximately 40 percent of our Bloomberg pricing requests were either rejected, or expired. A number of our 130 counterparty contacts rejected actually up to 70 percent of our requests last year. Regulators should take a pause and assess the impact of previous regulations before they introduce new ones. In this way, they would give time for market participants to take a breather and adjust to existing and new rules.
It's healthy that the Commission is asking for feedback on the impact of new rules and regulations. It's disheartening that the U.K. Treasury has found so many flaws. And it's disturbing that this doesn't just affect bond traders -- it may also make it harder for companies to reduce their reliance on bank loans and instead look to capital markets to raise money for investment.
The Commission needs to take a hard look at whether what it calls the "temporary costs that emerge in the transition period" of tighter regulation are truly short-term. It also needs to convince the world of finance that "the financial stability benefits of post-crisis regulations are perceived overall to outweigh the potential costs to market liquidity." Thus far, though, the evidence points to a need for a pause to take stock -- before those "unintended consequences" trash the market.
To contact the author of this story:
Mark Gilbert at magilbert@bloomberg.net
To contact the editor responsible for this story:
Therese Raphael at traphael4@bloomberg.net
Before it's here, it's on the Bloomberg Terminal.
LEARN MORE