Politics
Obama's No Radical
The president has been timid on Democratic priorities like guns and campaign finance.
by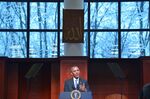 Republicans tend to paint President Barack Obama as a radical who is hell-bent on transforming the country. But on some of the issues that are most important to Democrats, he has been positively timid.  
Start with religious tolerance. Obama's speech this week to the Islamic Society of Baltimore offered a spirited defense of American Muslims, who face a rising tide of harassment and threats in the worst traditions of religious bigotry. Yet it was Obama's first visit to a mosque as president, something that his predecessor, George W. Bush, had done three times prior to his final year in office. Better late than never, of course. But it's not the only instance of Obama showing some hesitancy in publicly expressing his solidarity with Muslims.
In 2010, he spent weeks avoiding the controversial proposal to build a mosque and Islamic Center near the World Trade Center. After finally coming out in support of it in a speech to Muslims at the White House, the next day he narrowed his position to a defense of its legality. He was not, he said, endorsing "the wisdom of making the decision to put a mosque there." It was almost as if to say: Leave me out of this.
It was an election year, after all.  And it's perhaps understandable that a guy with the middle name Hussein, who about half of Republicans believe is a secret Muslim, would play things cautiously. But Obama has displayed the same hesitancy on other issues that are far from controversial with his Democratic base.
Take campaign finance reform. He promised to tackle it as a candidate in 2008 but never made it a priority once in office.
QuickTake U.S. Campaign Finance
Even after Democrats lost control of the House of Representatives in 2010, and with it the opportunity to pass a comprehensive public financing bill, Obama could have exposed the "dark money" contributions that increasingly shape campaigns, by directing the Internal Revenue Service to rein in the use of tax-exempt 501(c)(4) groups for political activities.
But the IRS didn't propose rules until three years later, and after both liberal and conservative groups objected, the agency went back to the drawing board -- and never returned. Several months ago, Congress tucked a provision into the budget barring the IRS from issuing new rules. Delay can be deadly.
Hesitation also hampered Obama's ability to make progress on gun safety. After avoiding the issue in his first term, he began taking some executive actions in 2013, a month after the Newtown massacre. Yet he failed to take the boldest action available to him: using the rulemaking process to clarify that all who sell guns regularly -- not just brick-and-mortar stores -- must conduct background checks.
Last month, with the clock running out on rulemaking, Obama opted for a half-measure: directing the ATF to provide clearer "guidance" to gun sellers about the law. That's not the same thing, because judges and juries aren't likely to find informal interpretations of a statute as persuasive as an unambiguous federal rule.
Timidity has also marked Obama's approach to same-sex marriage. After opposing it in the 2008 campaign, he waited so long to announce his evolution on the issue that Vice-President Joe Biden eventually beat him to it in 2012.
It was an embarrassing moment for the White House, and while Obama has since become a vocal supporter of marriage equality, he's mostly avoided the issue in front of black audiences, where opposition runs strong. No one is better positioned to change hearts and minds in the African-American community than he is, but rather than rise to the challenge, he has shrunk from it.
The president can be bold when he wants to be, but on these and other issues, from setting limits on smog to pushing for redistricting reform, he's shown a mix of political caution and managerial lethargy. Historians will judge whether this reflects wisdom or weakness, but in either case, he's been no radical. And that's probably one reason why someone who preaches revolution -- Bernie Sanders -- has found such a following within the party. Timidity can grow tiresome.
To contact the author of this story:
Francis Barry at fbarry5@bloomberg.net
To contact the editor responsible for this story:
Christopher Flavelle at cflavelle@bloomberg.net
Before it's here, it's on the Bloomberg Terminal.
LEARN MORE